Digital Badges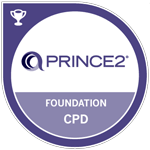 You need to be a My Axelos subscriber to apply for a digital badge for your ITIL®, PRINCE2® or MSP® certification. Digital badges are tokens that appear as icons and are awarded to signify learning achievements in a way that can be easily verified and shared online. Your digital badge holds and displays information about your professional development activity as well as the issue date and an expiry date. 
This information is validated by Axelos and is delivered using metadata so it cannot be altered. The badges can be used by employers and recruiters to validate an individual's credentials and can act as a differentiator. 

Your badge will be issued to you once you meet the CPD requirements and will be valid from the date you accept the badge until the expiry date of your subscription. Once you have accepted your badge you will be required to log a further 20 CPD points for your badge to be extended for a further 12 months at renewal. Your badge will reflect the highest certification that you hold e.g. If hold both a PRINCE2 Foundation and a PRINCE2 Practitioner certification, you will receive a PRINCE2 Practitioner badge.