A practitioner's view of the ITIL® 4 practice guides

November 13, 2020 |
 4 min read
The ITIL 4 practices are described as "sets of organizational resources designed for performing work or accomplishing an objective".
Every practice includes familiar, service management processes while encapsulating more than previous versions of ITIL. Each begins with a clear purpose for how to apply and what outcomes to expect.
A major change in ITIL 4 practices is their decoupling from the cyclical service lifecycle phases (now, the Service Value Chain). This encourages the use of practices through a flexible operating model whilst managing services. It also means the practices aren't fixed to a particular service phase but mapped to the activities in the service value chain where they can be used alone or with other practices.
I think these are positive steps towards an agile approach to service management; allowing service managers to deliver value by tailoring practices to a particular situation, and without having to follow every process.
A toolkit for success
Practices are a toolkit for service management. From managing incidents to enabling change, through to guidance on how to design and monitor services.
They are built to work whether your organization's operating model is, for example, DevOps or a centralised technology approach. The ability to pick a practice that creates, delivers, supports and improves services helps satisfy the ultimate outcome: meeting user needs.
For example, during the design of new functionality in a product, a team working in a continuous delivery approach needs to prepare a production code release. Using guidance from the software development and management, service design, release management, monitoring and event management and service validation and testing practices can bring a multi-disciplinary team together across activities during value stream creation of new user features.
An evolution in ITIL approaches
Some perceptions of previous ITIL versions suggested it unintentionally generated silos through processes being "implemented" as functional teams. I think the core focus on process held us back based on the idea they had to be followed as a set of rules, with the potential for disagreement.
Today, ITIL 4 encourages a much more collaborative and holistic approach through the service value chain and comprehensive practice guides, promoting a stronger focus on all four dimensions of service management. We can also plug different bits of practices together where they best contribute to a particular value stream, supporting a lean approach to service management. In reality, this means drawing on multiple practices as we flow through a value stream.
For example, when a critical service outage occurs, practices contribute towards various steps that sequence together to form a value stream. Each step can combine multiple practices; for example, when we engage with users, the service desk practice provides resources to communicate with users, and the incident management practices provides resources to register, evaluate impact and priority of the incident, and so on. When bringing together the teams to apply a work-around or fix during deliver and support activity, we leverage various practices such as knowledge management, change enablement and perhaps even supplier management if appropriate.
Some believe that reactive problem management begins only after post-incident resolution. However, the ITIL 4 framework – alongside the clarity provided by the new incident and problem management practice guides – offers better alignment on the ground.
And during the Deliver & Support service value chain activity, we can use the problem management practice guide during an on-going incident to help identify a cause and then flow back to resolving the incident as shown below.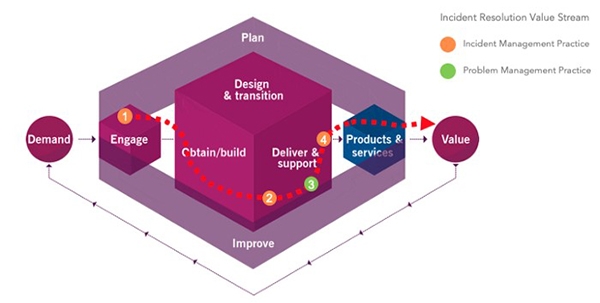 Bringing together pieces of the puzzle
Within a practice guide there is no shortage of advice or guidance, as they go into great depth. And this is the new way that ITIL supplements the knowledge available at ITIL 4 Foundation level, which is important especially for those new to the framework.
The ITIL 4 practice guides – available from My Axelos – help shape the overall body of knowledge, helping practitioners adopt the new concepts introduced at Foundation level.
It's encouraging to see practices will be reviewed continually and updated so they remain relevant to current best practice and reflect community feedback. This approach – embodying continual improvement, agility, lean, value and outcomes thinking – really does support a modern approach to service management.
For more information about the ITIL 4 practices you can subscribe through My AXELOS for online access at https://www.axelos.com/my-axelos
You can also start your ITIL 4 journey by taking ITIL 4 Foundation, learn more today.