Service Desk Improvement: Part 1

January 6, 2017 |
 8 min read
I was working with a client recently, helping them plan ways to improve the management of IT user support. When I came to review the advice I offered them, I realized that other organizations might find the same advice useful, so I have created three blog posts highlighting some of the client's issues and what might be done to resolve them. I have, obviously, made some changes to preserve the anonymity of the client.
This post is the first of the three.
Background
The client is the IT support organization for a very large outsourcing company. They run many different service desks and support teams. Some of the service desks deliver internal support; others are used by external customers. Some are dedicated to single customers; others are shared by many customers. Some provide a very basic service that simply logs incidents and dispatches to level 1 support; others provide more expertise with a high first-time-fix rate.
This organization is subject to the same pressures as every other support organization I have worked with recently. They need to cut costs, but this mustn't lead to a reduction in service. In fact, they need to improve service levels AND customer satisfaction while cutting costs – an apparently impossible goal.
I'm going to share with you how I would set about achieving this seemingly impossible goal.
Incident Management in a multi-vendor environment
One of the many issues the client needed advice about was balancing the benefits of a standardized incident management process against an ongoing need to provide differentiated levels of service to multiple customers.
The service desks support many different types of customer, and the customer contracts are extremely varied. There are also diverse arrangements with their support teams: some support teams are provided by third parties, some are within the customer retained organization, and some within the outsourcer. It seemed obvious that a common process would drive efficiency, improve Mean Time to Repair (MTTR) and reduce the number of "chase calls" from customers. But how could this be achieved in practice, given the equally obvious obstacles?
It's always going to be cheaper and easier to support large numbers of customers if they have similar support arrangements. Offering differentiated support to many different customers is both more of a challenge and more expensive, particularly if you want to drive MTTR and reduce customer chase calls. But you can certainly use "standard" incident management processes and governance while meeting diverse customer expectations provided you ensure that any process has sufficient flexibility to allow for variations in how incidents are handled.
If you want to address this complex issue, the most important things to consider are these:
How good is your Knowledge Management? Good knowledge management will help to ensure that whenever a service desk agent has contact with a customer, they know exactly what entitlement that customer has, and they have the information they need to provide the required level of support. How to achieve good knowledge management is discussed later in this post.
How many of your customers make use of web-based self-service? Web-based self-service is an excellent way of moving towards standardized processes. If you provide access to good web-based self-service, and encourage your customers to make use of it, you reduce the need for service desk agents to make manual decisions, and you can also help with management of contract variations via automation. How to create the type of web-based service that customers actually value, and choose to use, is discussed in my next blog post.
How many of your existing customer contracts, or parts of contracts, could be standardized? Given that any reduction in variance makes things easier for the service desk, reduces mistakes, increases overall service quality, and reduces costs, it's certainly worth reviewing current contracts to see what might be possible. You might even be lucky and discover that you can standardize by slightly increasing the level of service you give some customers – which could both reduce your costs AND improve quality of service, which is what we're trying to achieve.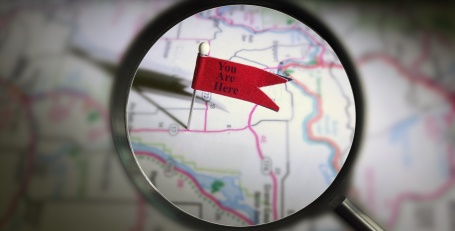 Choosing the Right Starting Point
If you want to begin any improvement project, it's important to know where to start. My client understood the importance of knowledge management and web based self-service, and was already asking how to improve them. This makes these areas the obvious starting point for their improvement planning. It's also in line with one of guiding principles from ITIL Practitioner: Start where you are.
Of course, this isn't the only guiding principle that I used when I talked to my client about ways to balance a need for standardized processes against a requirement to provide differentiated support.
Here are three other guiding principles that were particularly salient:
Keep it simple. Improving knowledge management and introducing self-service are already under discussion, and these are exactly what is needed to deliver the required results. There is no need to introduce extra complexity.
Progress iteratively. I'm sure you noticed that all my suggestions allow for small improvements that can be made with relatively low initial investments in a short time. My client can then continue to build on these small improvements, achieving each goal, and then setting the next one.
Focus on value. Equally, I hope you noticed my suggestions should enable my client to move towards standardising their incident management process, while at the same time increasing the value of that service to their customers by helping those customers to get better resolution of their issues more quickly.
Knowledge Management
What is the best approach to creating and using knowledge, and making sure it stays relevant? How can you ensure that you have good content? How can you make sure that content is used to speed up time to log incidents, improve accuracy of diagnosis, and start moving towards customer-facing self-help?
The ITIL Practitioner guiding principles are invaluable in supporting the development and implementation of knowledge management. The most relevant guiding principles here are:
Progress iteratively – don't run an enormous project to codify huge amounts of knowledge, taking months or even years before any value is created. Identify one or two pieces of knowledge that will be immediately useful and make sure that service desk agents can find them when they are needed. Once you have confirmed that this knowledge is valuable, you can start to build up a knowledge base a bit at a time, creating additional knowledge and measuring its impact, and updating knowledge that has already been created, or deleting it if it is no longer appropriate. Once you have enough content, the next step is to think about how to create direct access for users, via a self-service portal.
Keep it simple – you may need a huge complex knowledge base at some time in the future, but the place to start is with something inexpensive and simple that you can create quickly, that is immediately useful, and that you can then build on. This will create value; and by measuring and reporting this value you can help justify a more comprehensive solution.
Focus on value – think about knowledge in terms of the value it creates. This will help you to avoid an implementation that drives creation and management of knowledge that nobody uses. Knowledge only has value when someone uses it, so you should measure how often each piece of knowledge is used, and how well it resolves the problem that prompted its use. Use this data to encourage and reward people who create the most useful knowledge.
Design for experience – think about the experience that users will have when they consume knowledge. Try to provide knowledge in a variety of formats (audio, video, text, diagrams, etc.) and at various levels (expert, technical and basic) so that users can make best use of it. Engage users early in any knowledge management project to ensure that the knowledge will meet their needs and expectations.
Collaborate – make use of all the resources that are available to you when creating and reviewing knowledge, so you can be confident that your content is of the best possible quality. You should include service desk agents, level 1 and level 2 support people, as well as vendors, customers and users, to ensure that the knowledge works well for the target audience.
Conclusion
Here's a confession. I didn't deliberately set out to use the ITIL Practitioner guiding principles when I went on the customer engagement that prompted this post. But as we discussed issues and possible solutions, the principles were such a perfect fit that they made it very easy to see the best way forward. So here is my challenge to you. Make sure you've read the ITIL Practitioner guiding principles, and think about them the next time you plan IT service management improvements. And let me know how you get on.
See our ITIL Practitioner certification and ITIL Practitioner Nine Guiding Principles sections for more information
Read the other posts in this series
Service Desk Improvement - Part 2
Service Desk Improvement - Part 3.
Read Stuart Rance's other AXELOS Blog Posts
How does 'Focus on Value' relate to the rest of ITIL Practitioner Guidance?