Which PPM qualification is right for you? A guide for practitioners and employers

November 2, 2015 |
 4 min read
Why do you want or need a project and programme management (PPM) qualification?
Ultimately the reason should be to achieve successful management of projects, programmes and portfolios. However, people often get pushed into getting a qualification for the wrong reasons. If that happens, the return on investment for both an individual and the training and development spend of their organization is lost. But how does this situation arise?
Sometimes, organizations decree that, for example, "everyone is going to do PRINCE2®". Qualifying in PRINCE2, in itself, is not wrong but some people are not necessarily ready for it. But a temptation is to take a qualification to obtain "another badge for the CV".
Instead, I think it's necessary to choose a qualification based on its merit – and that must relate directly to how it will benefit both the individual and the organization.
Initial questions to consider
First, consider your development and development plan before deciding whether a qualification fits. Or, if you want to further your career prospects, is this based on a timed plan – for example, have you considered a one, three or five year career plan? And have you discussed this with your organization or a mentor?
How might the qualification assist you in current work, even if it's not on your development plan? Additional knowledge could give you additional confidence and capability.
Is the qualification commonly found in your organization? That could have a huge bearing on the eventual benefits to be gained.
What's your level of experience? If your experience is minimal, you might consider Foundation level now and Practitioner later rather than trying to fast-track through both.
Which qualification is right for you?
Consider the following:
What are you about to manage? For example, are you managing something slightly new or different? Does it involve looking after a programme or portfolio of projects and you have no idea where to start? In which case Managing Successful Programmes (MSP®) or Management of Portfolios (MoP®) might be worthy candidates.
Are you in a Project Management Office (PMO)? Then your most suitable product suite would be Portfolio, Programme and Project Offices (P3O®). However, if you're working in the PMO the Foundation level is likely to be sufficient; whereas if you're managing it, Practitioner level in addition is worth considering.
Your recent experiences on initiatives: would having additional knowledge or a qualification have made it a better experience, increased your likelihood of success, made you think differently, provided new approaches or methods and lifted some constraints?
What to discuss with your manager?
The business will want to see return on investment and an increase in your professionalism. If the organization has selected a particular method for running projects and programmes, for example PRINCE2, then you should be taking PRINCE2 to provide you with the common terminology, approaches and knowledge sharing.
Demonstrating the desire to take a qualification shows your manager you're serious about your career, especially if you can use what you learn to benefit the organization as well as yourself.
The 'decision tree' diagram below is designed to provide you with high level prompts to consider when choosing the qualification type (PRINCE2, MSP, P3O, Management of Risk (M_o_R®) or Management of Value (MoV®) and level that is right for your first (or next) qualification.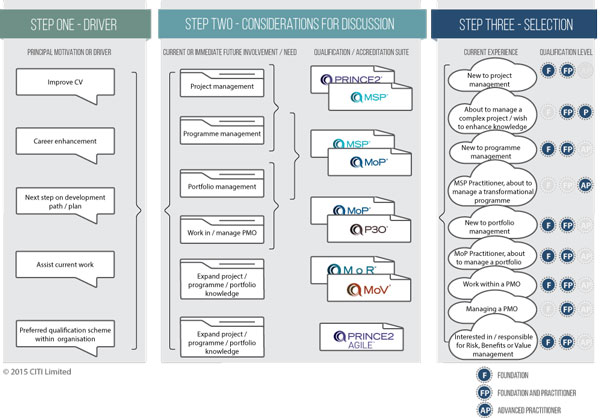 Did you get your qualification choice right?
Whether your decision to take a certain qualification was the right one should be measured in the mid to long term. And the return on investment for you and your organization? Well, that all depends on you applying your new-found knowledge in your current and future initiatives.
For a quick review on whether the learning and accreditation has worked, you should ask:
Has it given you more confidence?
Have you found working with your colleagues easier as you are using common terminology? Does having the qualification give others more confidence in you? Do they value your opinion more?
Do you have more knowledge of your subject and are you better placed in everyday work?
Don't forget, a decision to take qualifications should ideally be part of long-term career planning or critical to your current work, otherwise it may be seen as taking qualifications for the sake of it rather than investing in development to increase the likelihood of success for you, your initiatives and your organization.
Do you agree with Jane's guidance on how to identify the right qualifications for you or your organization? How do you evaluate the options when deciding whether to take new training or formal development? Please share your thoughts in the comments box below.