Sutter Health Case Study
Case Study

Case Study

October 13, 2017 |
 6 min read
This Case Study details how Sutter Health implemented ITIL in their organization and what they discovered along their ITIL® journey.
Introduction
Sutter Health's vision is to "lead the transformation of health care to achieve the highest levels of quality, access and affordability". We in information services enable our organization to achieve that vision.
What does your organization do?
Sutter Health is an integrated healthcare delivery network in the USA, providing the full spectrum of health delivery services to three million patients in northern and southern California, Hawaii, and southern Oregon.
The organization has nearly 52 000 employees and partners with more than 12 000 doctors to care for our patients. It is also very diverse, serving people equally from the most affluent and some of the poorest communities in California and the country as a whole.
Sutter Health's IT and IT service management needs are handled by its information services (IS) team, which employs nearly 2 000 people.
How are IT and IT service management important to the success of your organization?
Technology in US healthcare is catching up to the level of technological advancement in other typically tech-dependent industries. This affects running health organizations and providing patient interactivity.
Technology has become a vital enabler of care quality, service levels and delivering positive patient outcomes. It is at the forefront of delivering services in a highly regulated industry.
What significant IT/ITSM projects or programmes have you undertaken to improve what your organization does?
Stuart James, Chief Operations Officer for information services, said:
"In the past 18 months we recognized the need to mature as we became a service management organization; enabling our internal customers who care for patients and ultimately supporting direct services to patients and consumers. Although this journey started more than five years ago, we re-started two years ago. At that point, we didn't have the right tools in place to enable service management nor the skills, mindset or method to measure maturity."
"Therefore, we engaged with ITIL® experts and introduced training to create the tools, culture and skills we needed to develop leadership and drive change. This has involved 90-day improvement cycles to mature our culture, tools and processes."
Gina Hunkins, IS Programme Manager, added: "We have followed an agile service management approach over the 90-day iterations, covering new processes, technology changes, improvements and culture.
Over the past six months we have applied a greater focus on culture than before." "As enablers to the organization (that is providing excellent services) it is about seamless delivery."
What has been the outcome for your organization and its customers/users?
Stuart James, Chief Operations Officer: "We won Silver for Project of the Year at Pink Elephant's IT Excellence Awards this year for commitment to using best practice frameworks, including ITIL. Of course that's great, but the biggest recognition is from our customers, namely our Active Voice of the Customer Community which includes 35-40 customers actively helping us to redesign our business."
In numbers, the project outcome includes:
Reducing hold time on the service desk from 20 minutes to less than a minute;
90% receive a response in under 30 seconds 10 000 hours of efficiency gain
Three-year total cost of ownership reduction of $3.3m.
An increase in customer satisfaction and employee morale.
A palpable change in excitement and commitment from our people.
Gina Hunkins: "Our customers are vocal that we're going in the right direction."
"Reducing hold time on the service desk from 20 minutes to less than a minute; 90% receive a response in under 30 seconds."
Why did you choose to use ITIL?
Stuart James, Chief Operations Officer: "Becoming COO has required me to focus on the detail: improving operations and efficiency became my primary focus, which meant dealing with why we didn't have enough people, the unacceptable number of service interruptions and other problems.
"It was obvious that ITIL was the industry-wide standard for delivering IT and any type of services. We use ITIL as the foundation for delivering IT services, along with using the PMBOK for its project management component."
"Sutter Health is evolving as an organization, and we needed a framework to be one step ahead of the business and be consistent in our delivery while the business is evolving. ITIL was the foundation of that framework."
How has ITIL training and certification been useful in achieving your goals?
Stuart James, Chief Operations Officer: "Internally, we had 19 ITIL Experts whose skills hadn't been used practically before. Through our partnership with Pink Elephant we began to deploy our ITIL Experts with purpose, mission and focus. That meant assigning experts to mentor process owners and involved setting out key ITIL processes to improve our service catalogue."
Gina Hunkins, IS Programme Manager: "We broadened our ITIL Foundation learning within the organization through the programme, now numbering 320 certified staff. We continually partner with Pink Elephant on our training plan which has included organizational change management for director-level staff, focused on an overview of ITIL and providing the tools for them to lead their staff through the service management transformation."
"We're also providing formal service owner training this year, with people focusing on gathering requirements, bringing them into strategy and service design and taking that through the lifecycle."
How did ITIL processes help overcome these challenges?
Stuart James, Chief Operations Officer: "It was important that we didn't try to 'boil the ocean'! Instead, we identified the critical processes and focused on them. That included incident and problem management and release and deployment. Then, we started with configuration management and moved to a service catalogue which hadn't been done before and that has been our focus for the past 18 months."
"With regard to incidents, we have done a lot of behind-the-scenes process improvement; it's such a key, customer-facing process which involved a lot of pain as people didn't want to call the service desk; the hand-off of tickets was awful!"
"Though we're still maturing, it's come a long way. Now, people are answering calls so quickly, customers are genuinely surprised! And it has changed the way teams work together; starting to look at what they do as a service and recognizing that it's about the customer."
"... it has changed the way teams work together - starting to look at what they do as a service and recognizing that it's about the customer."
Gina Hunkins, IS Programme Manager: "The service catalogue process has been significant for organizational change: introducing the service mindset of delivering a total experience for the customer and looking at business outcomes is a shift in thinking and an impactful culture change."
Jennifer Sierras, CIO Freestanding Business Units, said: "Business relationship management has been about really standardizing our external-facing approach with our customers and creating consistent communication. We have also introduced multi-disciplinary sessions to look at problems and change to create better outcomes. Looking at broken processes that we can prevent from happening again has strengthened the relationship between IS and its customers."
Joshua Cedor, Director - service management, said: "ITIL has changed the expectations internally, enabling a path to focus on a user population and offer solutions that address how people work, putting governance into the core of our operations. We are achieving things in days that would have taken months previously. That ability to move quickly and responsively means we're getting clarity, seeing the 'lights turn on'."
What were the biggest challenges with your adoption of ITIL?
The biggest challenge was educating everyone without applying the entire body of knowledge immediately thereafter: while everyone embraced the ITIL concept it was more about having the right structure and leadership in parallel with business demands.
Stuart James, Chief Operations Officer for Information Services: "Getting people certified was the straightforward bit; but finding opportunities to apply ITIL after decades of doing things a certain way was a challenge. We're still working on it through an ongoing cycle of reinforcement: structuring our communications and learning plans."
"It is about integrating ITIL with our overall strategy and vision of service management and not seeing it as an additional thing to do."
"Ultimately, it is about staff realizing that that service management is how they work."
What has worked well?
As ITIL is well-defined and proven, it has given us a menu of what to do, but with flexibility of how to apply it to our organization. It also gives us the end state of what maturity should look like.
What would you have done differently?
Stuart James, Chief Operations Officer for Information Services: "There's nothing I would have done differently. Our journey is uniquely our own. However, I wish we could have found a way to instil practical knowledge of ITIL into the leadership team before starting our change programme."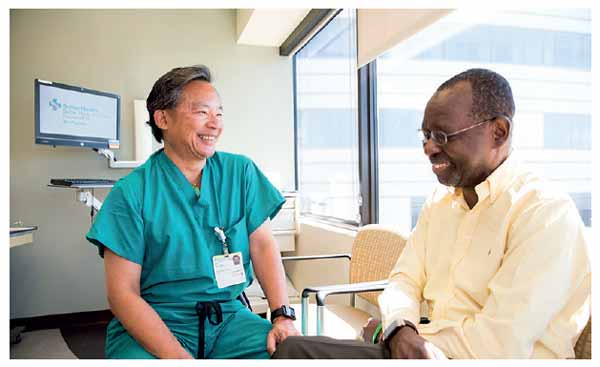 Figure 1 Doctor and Patient laughing 
What other solutions did you consider?
We decided to use ITIL but understood that ITIL was not the answer to everything. Therefore, we've used PMBOK®, adopted Lean and are planning to use COBIT 5®.
What achievements are you most proud of?
We've had much more customer engagement than ever before. And the speed with which we accomplished many things in a short time was the disruption we needed to generate the momentum that would deliver results quickly. We are doing what we said we'd do, which adds to our credibility.
Joshua Cedor, Director - service management: "Acting as agents of change is difficult in a company of this size. But having the ability to ask better questions is leading to a visible culture shift that is making a real difference for our users and customers."
Gina Hunkins, IS Programme Manager: "The level of progress we've made in a short time means acknowledging the leadership we've had in Stuart and Jennifer."
Did the size of your organization or your location affect how you adopted ITIL and, if it did, how did you adapt ITIL to ensure it worked?
Working within the evolving organization of Sutter Health, we have to try to stay one step ahead of the business. Having alignment with the entire system was one of our deficits previously, but we are now moving towards service transition and alignment.
Continual service improvement
What are the current challenges?
Joshua Cedor, Director - service management: "Identifying where practical application may conflict with the textbook approach, and ensuring improvements help to not only mature the state of the process itself, but to also provide higher, measurable and tangible value to workflows."
Stuart James, Chief Operations Officer for Information Services: "CSI is about maturing not just the tools and processes but also the mindset and skillset of the team. We continually assess our maturity, using a standard five point maturity scale to measure progress."
What plans do you have for the future?
Bringing more people into our roadmap and including the Voice of the Customer to drive improvements.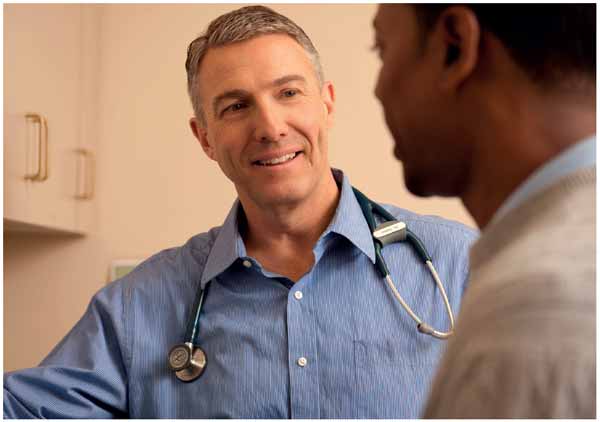 Figure 2 Doctor and patient smiling
How do you communicate what you do to the organization's employees?
Stuart James, Chief Operations Officer for Information Services: "We have a communications manager who we leverage for internal and external communications campaigns, creating and planning key messages for the audiences and who will deliver those messages. We also have a bi-weekly call, exchanging information in an attempt to have more dialogue regarding culture change."
Top Six ITIL should do's
Translate your investments/costs to value for the organization.
Focus "outside-in": it is very much about the customers so get your team to look from a customer perspective, which is more difficult than many think!
Get help: working with partners to maximize the benefit from ITIL is invaluable.
Move quickly in your changes: do something and get into the mindset of continual improvement.
Identify and keep your champions engaged from early on: the ones who will carry the flag for you.
Strong executive sponsorship is a must.
Top five ITIL don't do's
Don't underestimate the commitment needed to make this happen.
Don't try to "eat the whole elephant" at once. Ensure the organization knows it is a journey, not an event.
Don't forget to celebrate the value and the win and let the data tell the good stories.
Don't get lost in the academics of ITIL: translate it into practical application.
It is about the people and changing people's lives: without changing your culture, mindset and skillset your programme won't succeed.