An adaptive priority approach White Paper

June 26, 2018 |
 4 min read
The primary goal of the incident management process is to restore normal service at the earliest opportunity. This minimizes the negative impact on business operations and resumes the appropriate level of service quality and availability. Developing a synergy between service management and network infrastructure is critical to improving operational efficiency and reducing costs. Assigning the appropriate priority to the incident and providing a timely solution is vital for minimizing service impact and improving customer satisfaction.
Incidents in the incident prioritization subprocess are logged with a priority-level based on the traditional comparison of impact vs. urgency. It is set by either the customer service representative (CSR) or an event management system, or a combination of both.
However, the traditional approach comes with its own set of drawbacks. Manual intervention and judgment can sometimes be erroneous, leading to a failure to identify the right priority for an incident. This can lead to poor service delivery and negative customer feedback.
This article discusses how to build an efficient incident prioritization model beyond the traditional approach.
1.1 TYPICAL CHALLENGES WITH TRADITIONAL ITSM SYSTEMS AND PROCESSES
Difficulty in identifying the signal from the noise. Isolating service-impacting alarms is a major challenge. Increased non- service-affecting alarms (noisy events) cause delays and visibility issues for service-affecting alarms, leading to customer dissatisfaction.
Difficulty in identifying the impact and number of affected customers. It is a real challenge to identify the actual number of end users affected by an incident. The existing monitoring tools are unable to provide essential information in real time or near real time.
High MTTR leads to high operational expense. More time is spent on identifying and isolating an issue than on fixing it.
Hence, the higher mean time to resolve (MTTR) leads to higher operational cost.
With the exponential growth of incident volume, operational teams find it difficult to identify high-priority issues within the stipulated time frame. They face a real challenge in creating multiple tickets and follow- up emails. There is a constant need for an expert system that can automatically categorize, correlate and assign the appropriate severity to an incident.
1.2 PRIORITIZATION OF INCIDENTS BASED ON AN ADVANCED DATASET
A typical ITSM system determines the incident priority using the traditional method of a 3x3 impact vs. urgency matrix. Without a proper strategy for establishing the correct priority, it is difficult to meet service level agreements and trigger incident escalations appropriately.
One solution is to enrich the incident with an intelligent dataset. This can be the first step towards identifying the issue and resolving the incident.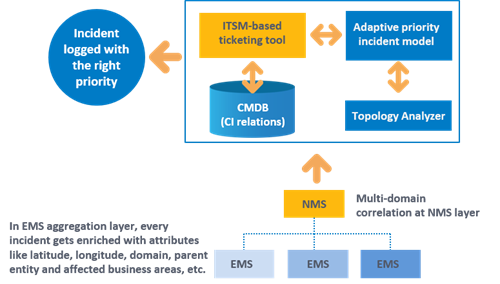 The new adaptive priority model considers a variety of business-critical factors, such as:
Customer segment affected
Service impacted
Number of customers affected
Service category
Business category
Type of service affected.
These factors automatically identify and assign the right priority to an incident. Enriching every incident with additional intelligent data helps in effective root cause mapping. A prioritization scheme can help the service desk to stabilize their day-to-day operation and make it proactive and more agile.

| Business Area | Service Impact  | Number of Impact Customers  | Service Category  | Key Service | Impact | Urgency | Priority |
| --- | --- | --- | --- | --- | --- | --- | --- |
| Residential  | Local | 0 - 500 | DTV | Tier 2 | 4-Minor/ Localized  | Low | Low |
| IT | Urban | 501 - 5000 | CRM | Tier 2 | 2-Significant/Large | Medium | Medium |
| IT | Regional  | 50001 - 50000 | Billing | Tier 1 | 1-Extensive/ Widespread | High | High |
| B2B | Multiple countries | 50001 - 999999999 | Customer-facing mail B2B | Tier 1 | 1-Extensive/ Widespread | Critical  | Critical |
1.3 BENEFITS OF AN ADAPTIVE INCIDENT PRIORITY MODEL
Improving service availability: The correct prioritization approach can help the real-time impact assessment and the quick resolution of tickets, which improves service availability. Using an adaptive priority model in incident and problem management processes helps to reduce the average number of P1 and P2 tickets.
Improving system productivity: In any IT organization, the correct prioritization model plays a vital role in effective and efficient utilization of human resources while maintaining stringent SLAs. This results in increased agility and efficiency, leading to increased customer satisfaction.
About the Authors
Omprakash C, Technical Architect, ITSM Delivery, Prodapt Solutions.
Technical architect with more than 14 years of IT experience, specialized in the implementation of ITSM solutions like BMC Remedy, ServiceNow & IBM SCCD/ Maximo. Successfully led many ITSM implementations, development, consolidation and transformation projects across various industries.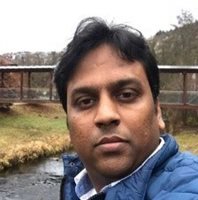 Mogan A.B., Manager, Strategic Insights & Thought Leadership, Prodapt Solutions.
ITIL v3, ITIL® intermediate certified presales professional with more than 9 years of IT experience. Successfully handled various roles in solution designing, consulting, solution integration and development, and has strong ITSM solution implementation knowledge. Proven expertise in building & delivering actionable insights on robotic process automation (RPA), AI & Machine learning, O/BSS, advanced correlation, and ITSM.