Business models and operating models White Paper

April 21, 2020 |
 9 min read
Business models and operating models are used to describe the current state of an organization, as well as its possible future states. They are an important part of organizational design or transformation because they identify the key components in terms of markets, value propositions, sales channels, revenue, costs, and the people, resources, and partners needed to co-create value.
The popular Business Model Canvas and Operating Model Canvas are frameworks within which practitioners can position the key ITIL artefacts: the service value system (SVS), service value chain, the four dimensions of service management, and service value streams, which represent how people and resources interact to co-create value.
Business models
A business model describes how an organization co-creates, delivers, and captures value and sustains itself in the process. It is a broad-scale visual depiction of the components of an organization and the relationships between them.
The Business Model Canvas, shown in Figure 2.1, is a framework often used for creating a business model.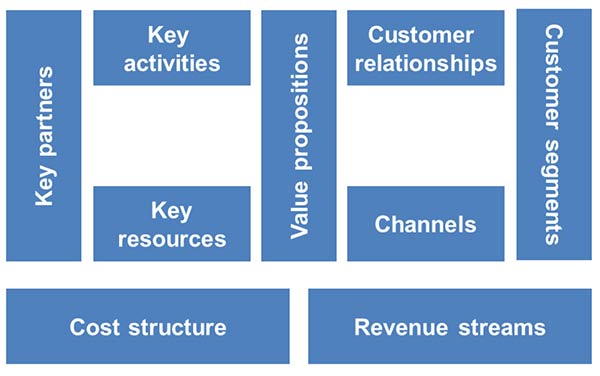 Figure 2.1 The Business Model Canvas
The Business Model Canvas comprises of nine building blocks in four categories, as outlined in Table 2.1.
Element                                                      
Description                                                      
Infrastructure                  
Activities

Resources

Partners                                 
Offering
Value propositions
Customers
Customer segment

Channels

Customer relationships
Finances
Cost structure

Revenue streams
Table 2.1 The building blocks and categories of the Business Model Canvas
Operating models
3.1 WHAT IS AN OPERATING MODEL?
An operating model is a conceptual or visual representation of how an organization co-creates value. It is similar to a business model, but it focuses more on the delivery of value propositions and describes these activities in more detail. It is the 'back end' or infrastructure (including activities, resources, and partners) of the business model.
The operating model concept can be applied to the whole organization, or just to a part of it. For example, 'IT operating model' would refer to the operating model for an IT function. Functional operating models within a single organization are often based on the same generic structure, such as the Operating Model Canvas, but each one will have individual characteristics. For example, one may emphasize the co-creation of value through close collaboration between the service provider and consumers; another may emphasize offshoring to lower-cost locations. It is crucial that the operating model addresses how the service consumer participates in the co-creation of value.
High-velocity' is typically required in operating models when they are significantly digital and when circumstances are volatile, uncertain, complex, and ambiguous. The process of creating an operating model is often as valuable as the end product itself.
3.2 THE OPERATING MODEL CANVAS
There are many frames of reference for thinking about operating models; for example, the Business Model Canvas suggests 'activities, resources, and partners' and business architects often use 'people, process, and technology'.
The Operating Model Canvas is a well-documented frame of reference that links with the Business Model Canvas, as shown in Figure 3.1.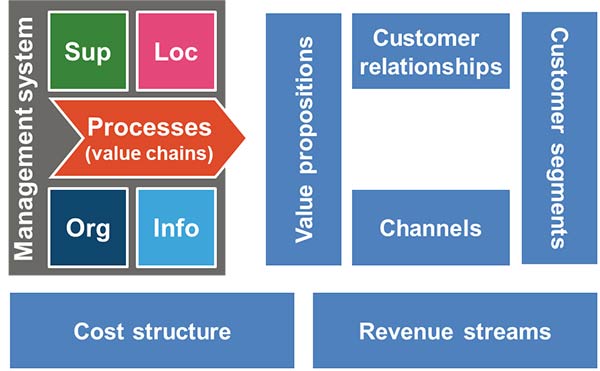 Figure 3.1 The Operating Model Canvas and the Business Model Canvas
The Operating Model Canvas sorts the key activities, resources, and partners in the Business Model Canvas into six elements: processes, organization, locations, information, suppliers, and a management system (POLISM), as outlined in Table 3.1.
| Element | Description |
| --- | --- |
| Processes | How the organization co-creates value. The sequence of steps required to deliver goods or provide services is called a value stream. The value streams (or processes) form the heart of the operating model. |
| Organization | Who should do the work, how roles should be structured, and how supporting activities (from the finance, HR, and IT departments, for example) complement the structure. This element describes who is responsible and accountable for each activity and the culture of the organization as a whole. |
| Locations | Where the work is performed and the required assets at those locations. This element can range in scope, from specifying a country to specifying a floor within a building. |
| Information | The information and the information systems that support each work step or value stream. |
| Suppliers | The outsourced work and the nature of the organization's relationship (transactional or collaborative) with each supplier. |
| Management system | All of the processes that are needed to enable value co-creation. |
Table 3.1 The Operating Model Canvas
Depending on the context, an operating model can be a one page 'canvas', a ten-page document briefly describing each 'space' on the canvas, or a significantly detailed, hundred-page document.
Most organizations' products comprise services, and often include goods. Therefore, service-dominant logic should be considered when designing operating models. Service-dominant logic regards the operating model as the intentional and dynamic configuration of resources. Resources can be human, physical, logical (such as algorithms), informational, or financial.
Service-dominant logic is a mindset that does not encourage predetermined processes; these are more appropriate, for example, for manufacturing goods in a low-variability environment. This may influence how the processes or value streams are designed.
3.3 DESIGNING AN OPERATING MODEL
Designing an operating model is not a purely analytical process; it is an emergent journey. A set of design principles should be developed to support the design process. Design principles describe the strategic elements that will influence the operating model's design. Some example design principles are:
move from product-led to customer-led
enable technical resource-sharing between teams
support multi-sourcing
enable faster-paced change.
All good design principles:
align with strategy
account for constraints
address material topics
choose between alternatives
suggest design solutions.
The first output of the design process should be a high-level description of the steps that are needed to create value; a well-defined value proposition is helpful. When the steps are clear, the required resources can be identified, including how they are organized and where they should be located. Other elements of design include choices about technology, supplier relationships, and management processes. It is important to consider the cost structure and revenue streams when making these decisions.
Designing an operating model for services can be quite different from designing one for goods. Goods manufacture is often characterized by a preference for low variability: service provision often requires high variability because of customers' differing needs. Operating models for services, therefore, require flexibility, which is often achieved by allowing, or requiring, people to use discretion and creativity to respond to certain situations.
Operating models typically need to be redesigned in response to new strategies, technologies, or capabilities, when the current operating model is performing poorly, or when competitors threaten sales.
3.4 IT OPERATING MODELS
An IT operating model is an operating model for the part of an organization that provides IT services. When applied to an IT function, the basic structure of the operating model remains the same and describes POLISM from an IT perspective. IT governance is addressed in the IT organization and IT management system elements. In IT operating models, particularly for centralized IT departments, the value proposition is typically the catalogue of the organization's IT services. The diversity of the IT services will often be reflected in the diversity of the value streams. For example, IT services based on a third-party enterprise resource planning system will have a different value stream than IT services for a website that is developed and operated by the organization itself.
There is an important relationship between the operating models of the parts of the organization that consume IT services (such as a business unit) and the part that delivers IT services. In the operating model of a business unit, the information element can be regarded as an IT function, whether the business unit has its own IT function or IT services are provided by a centralized team. The first is often referred to as converged IT and the latter as aligned IT.
Digital operations have made these relationships even more complex because the IT function not only provides information services that support value streams, but also may provide the digital technology that performs the work. Some organizations have experimented with separating the two IT roles: providing information support and providing digital work solutions. This can be seen as an attempt to separate high-velocity IT and traditional IT.
ITIL is well-aligned with the Operating Model Canvas concept. The four dimensions of service management correspond with four of the six elements of the generic operating model, as shown in Table 3.2.
ITIL artefact
Operating Model Canvas Component
ITIL service value chain                                  
Processes                                                              
Plan value chain activity

Improve value chain activity
Management system
Practices
Processes, organization, location, information, suppliers
Guiding principles
Management system
Governance

Continual improvement
Management system
Value streams and processes dimension
Processes
Organization and people dimesion
Organization

Locations
Information and technology dimension
Information
Partners and suppliers dimension
Suppliers
Table 3.2 ITIL artefacts and Operating Model Canvas elements.
Conclusion
The ability to position the ITIL SVS, service value chain, four dimensions of service management, and value streams in the context of business models and operating models enables discussions about digital transformation and IT transformation with non-IT executives. This, in turn, enables better decision-making about digital- and IT-related improvements.
About the author
Mark Smalley, also known as the IT Paradigmologist, thinks, writes, and speaks extensively about IT 'paradigms', or our changing perspectives on IT. Mark is an IT Management Consultant at Smalley.IT and Delivery Partner for GamingWorks' DevOps and ITSM business simulations. He is a contributor to many bodies of IT industry knowledge and was the lead editor for the ITIL Specialist: High-velocity IT module. Mark has lectured at various universities and spoken at hundreds of events in over thirty countries.