Elevating the IT service experience White Paper

December 15, 2020 |
 19 min read
Although the service economy has existed for half a century, many people still experience poor service. This publication explores IT service quality that extends traditional inside-out characteristics based on technology and output. It adds outside-in characteristics such as outcome and experience. It is intended to help IT service managers identify and monitor the characteristics that are relevant for their situation, and where useful, incorporate these in formal agreements with their customers. The publication also proposes investment in empathy as a way of improving the consumer's experience.
Introduction
Although the service economy has existed for half a century, many people still experience poor service. This is usually caused by uncompromising algorithms or inconsiderate people. Poor service can cause anger, sadness, and fear. For example, you might be frustrated because you do not understand a system and anxious about calling customer service because you do not know how to explain the issue.
Poor service is not restricted to the digital domain, but IT service consumers could certainly be treated better. Good IT service design is mainly about three things:
empathizing with stakeholders to understand their context and needs
speculating and experimenting with hypotheses based on observation and reflection
daring to create what consumers need, not necessarily what they want.
Experience as an economic value driver
The term 'experience economy' was coined by Pine and Gilmore1 in 1998. They assert that the subjective experience that people derive from products and services is becoming more valuable than the objective benefit of the products and services.
If it is a value driver in its own right, experience can be seen as the basis for the next economy (following the service economy). Experiences have always been derived from products and services, just as products are always provided with some kind of service. However, consumers get used to what they have and therefore develop continually higher expectations about the experiences they anticipate receiving. Better experiences fulfil these expectations.
Enterprise IT service consumers are increasingly sensitive to their experiences. Their purchasing behaviours and general satisfaction levels are influenced by the customer journey as a whole. The underlying IT services, however, are still important.
In 'high-experience' companies, such as amusement parks and zoos, it does not matter too much which attractions are present. In enterprise IT, content matters; however cool Apple's products may be, they cannot replace an enterprise resource planning system. It is therefore the combination of the IT service's utility, warranty, and experience that matters.
IT organizations can adopt and adapt practices from organizations for which experience is the primary value driver. The experience tipping point in enterprise IT is not when experience becomes more important than the underlying services, but when it is of significant importance.
In these cases, providers that play to both the consumer's rational and emotional needs not only co-create more value but also have a competitive edge.
A key takeaway from the experience economy concept is that organizations should think more about what experience means to the customers or citizens they serve, and therefore what it means to themselves. The same applies to other stakeholders, such as their employees, partners, and suppliers; employees look for meaningful and rewarding work, and partners and suppliers have their own interests. The common denominator is that products and services affect how people feel and think about themselves.
The anatomy of service
Before exploring the dimensions of IT service quality, it is useful to understand the anatomy of service.
Definitions
- Service A means of enabling value co-creation by facilitating outcomes that customers want to achieve, without the customer having to manage specific costs and risks.2
3.1 Co-creation
The idea of co-creation captures the essence of a service in the context of economic exchange3: instead of transferring the burden of goods ownership from one party to another, the service provider dynamically configures a set of resources and applies them for the benefit of the service consumer. The service consumer reciprocates: service is about the active co-creation of value. For example, even a very good hairdresser will not provide a good service if the customer does not move their head to create a good cutting angle, give direct feedback, and so on.
3.2 Resources
In terms of resources, hairdressers use clippers, combs, technical knowledge, and social skills, while the customer mainly uses information to co-create value.
In general, resources are typically: people (knowledge and competences), physical artefacts, algorithms, information, goodwill and capital. These are not only used during a service interaction, but many of them change in value during service delivery. For example, there is less money for the service consumer and more money for the service provider, more or less goodwill (trust) for both parties, and knowledge and competences are learned from the interaction so that they can interact better next time. These changes in resources represent the value that is co-created.
Output, experience and outcome
changes to the resources can be regarded as outputs from the interaction. The outcome is how the changes affect whatever goals the parties wanted to achieve with the service. For example, revenue, goodwill and improved capabilities help providers to achieve sustainable profitability.
Desired outcomes are often things like increased capital, goodwill, or strategic capabilities. The people involved in the service interaction undergo an experience, which is also affected by the outcome. Finally, closing the circle, the experience affects how people participate in the service interactions.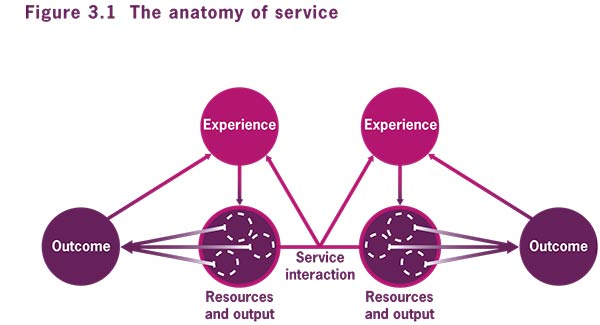 In summary, a service is an interaction between a provider and a consumer who configure and apply their respective resources for mutual benefit. The interaction results in changed resources (outputs), including changes to the emotional state of those involved (experiences), which in turn affect their desired goals (outcomes).
Dimensions of service quality
Traditionally, IT service management expresses the quality of IT services in terms of their utility and warranty. Utility and warranty qualify the outputs of a service, but there are other dimensions that can be measured. This section describes five service-quality dimensions: output, outcome, resource, relationship, and experience.
4.1 OUTPUT-BASED SERVICE QUALITY
Utility and warranty are often used to describe IT services. Utility is fitness for purpose; for example, the effectiveness of a search application. Warranty is fitness for use; for example, how quickly the application responds and how resilient it is.
The speed with which IT services are delivered determines how quickly the potential value can be realized. Utility, warranty, and speed are all objective characteristics of outputs, rather than outcomes. These quality requirements are often formalized in service level agreements (SLAs) between service consumers and service providers.
IT service outputs can be reframed as business inputs that are used in business processes to contribute towards business outcomes. IT is used to process, store, transport, and provide information that is used to automate manual processes and inform decision making. The value of IT services can therefore be equated with the value of the information provided.
4.2 OUTCOME-BASED SERVICE QUALITY
It is notoriously difficult to define metrics and targets (service levels) for IT outputs that contribute to desired business outcomes. From a consumer perspective, it is much better to focus on outcomes than outputs. However, because desired outcomes are often affected by factors other than IT services, IT service providers prefer agreements based on outputs.
IT service providers are reluctant to promise (and be held to) outcomes unless they also benefit from them.
Where there is mutual benefit and trust, agreements can be based on subjective but defensible criteria; for example, a business manager's assessment of lost productivity due to issues with IT. The manager's subjective assertion could be supported by comparing volume and 'technical' severity of IT issues with business metrics, such as orders processed. The true value of measuring and comparing outputs and outcomes emerges from the ensuing discussion, as well as from improvements to the 'system'.
Outcomes often have various stages; for example, when the availability of an IT service affects a business department's efficiency, which in turn affects the organization's profitability. In this case, the IT service provider sees business efficiency as the outcome of improved IT availability, but the business department regards business efficiency as an output and profitability as an outcome.
In this 'outcome cascade', it can be useful to differentiate between how the IT service affects:
the service consumer's processes (productivity and efficiency)
the service consumer's customers (products/services and relationships)
the service consumer's business objectives (profitability and sustainability).
The general principle behind an outcome is that the provider should be aware of what the consumer wants to achieve with the provider's output. Both parties should monitor the 'highest' stage of an outcome where there is still a plausible correlation with the output.
4.3 RESOURCE-BASED SERVICE QUALITY
This term is not in common use, but sometimes it is useful to measure the resources that are applied in the service interactions. Examples of resources are the knowledge, skills, and information systems that each party needs in order to provide or consume services; for example, in a hypothetical team at least 80% of team members need 5 years' experience in IT service delivery and an ITIL Foundation certificate.
In most cases, each party should not need or want to measure the resources that the other party uses: their primary concern should be the outputs and outcomes of the service. However, giving the other party insight into the resources may foster confidence. Sometimes there is tension between what the provider wants to share and what the consumer wants to know. This is a symptom of a lack of trust on one or both sides of the relationship.
4.4 RELATIONSHIP-BASED SERVICE QUALITY
Outcome-based service quality relies on the belief that every involved party will act in the spirit of the agreement, rather than by exercising their formal rights. The quality of the relationship is therefore very important for outcome-based service quality.
Trust is based on the trustor's perception of the trustee's integrity, benevolence, and 'technical' abilities in relevant domains. Integrity is the adherence to acceptable principles, such as honesty, openness, reliability, and consistency. Benevolence is about doing good beyond what is generally expected. Trust is also based on the demonstration of the trustee's reciprocal trust and vulnerability by taking risks with behaviour outside their direct control.
Trust is based not only on direct perceptions and observations but also on the whole brand experience: indirect touchpoints with manifestations of the provider's brand, including media presence, reviews, and recommendations.
4.5 EXPERIENCE-BASED SERVICE QUALITY
IT service quality can be improved by paying more attention to how the service is experienced by the consumer. Experience emerges from human-digital, human-human, and human-physical interactions.
An IT service is comprised of four types of service interaction:
Ownership of goods (such as a laptop) can be transferred from provider to consumer.
The provider can give the consumer the right to use the provider's resources (such as a laptop or an application) so that the consumer is not concerned with the costs and risks of ownership.
The consumer can use the provider's resources (such as a self-help chatbot) for support.
The consumer can interact with the provider's employees (such as service desk agents) for support.
These IT service interactions lead to various kinds of consumer experiences. Users have digital experiences when working with applications and devices, including digital support systems such as websites and chatbots. They also have human experiences with service agents when things go wrong.
Customers have digital and human experiences when selecting service providers, purchasing services, and managing the relationship with the service provider.
Consumers' experiences are also affected by the physical artefacts in the environment in which the digital and human interactions take place.
| | Type of experience | Digital | Human | Physical |
| --- | --- | --- | --- | --- |
| Type of service interaction | | | | |
| Transfer of goods | | X | | X |
| Provision of access to resources | | X | | X |
| Interaction with service provider's resources | | X | | X |
| Joint service actions | | | X | X |
Table 4.1 Service interactions and experiences
Experience is typically measured by assessing:
customer satisfaction (CSAT) about these interactions and the relationship in general
customer effort (CES) in these interactions
the supplier's promoters and detractors (net promoter score, NPS).
These experienced-based requirements are often formalized in experience level agreements (XLAs®). These are either part of SLAs or a separate-but-related document. XLAs usually also include outcome-based requirements.
Although there may be managerial pressure to formalize desired levels of service, there is considerable value in 'just' measuring service quality and discussing the measurements and their implications. Given that intrinsic motivation tends to drop when goals are made explicit, levels should only be set and formalized when there is confidence that this will be productive.
Elevating the IT service experience
The quality of human-human service interactions depends strongly on how people feel during and after the interaction. In addition to the rational benefit from a service interaction, consumers also benefit from a change in their emotional state (how they feel about themselves) and their social state (how others perceive them).
Emotionally engaged employees are more productive, healthier, more loyal, and more inclined to promote their organization. Employee experience correlates strongly with objective corporate performance.
5.1 COGNITIVE AND AFFECTIVE EMPATHY
Service providers can foster positive consumer experiences by applying cognitive empathy and affective empathy. Empathy is the ability to understand or feel what another person is experiencing from within their frame of reference; being able to walk in another's shoes. Empathy is the spark of human concern for others; the glue that makes social life possible.
Cognitive empathy is about taking the consumers' perspective in order to provide help; for example, by proposing options and stating what other consumers have done. Cognitive empathy is mainly a rational assessment of the consumer's needs, followed by a combination of information, options, suggestions, and actions that fulfil these needs. This requires a good understanding of the customer journey. Descriptions of typical customer journeys can be useful as a reference, but the provider should always realize that some consumers may have taken a different route.
Affective (or emotional) empathy is about identifying with consumers' feelings; for example, by offering understanding or an apology when a service fails to meet expectations. Affective empathy focuses on emotions and feelings, but the challenge is that these can only be inferred by observing a person's behaviour. Service agents can only learn to infer emotions and feelings through experience with many interactions. There will always be a degree of uncertainty about somebody's actual emotions and feelings, so service agents should proceed cautiously.
Other related topics are sympathy and compassion, which are also reactions to the discomfort of others. They are two ends of a spectrum of engagement, starting with sympathy (a somewhat distant acknowledgement of somebody's suffering) and ending with compassion (a proactive desire to alleviate suffering).
Empathy is the crucial link between recognizing the suffering (sympathy) and actively wanting to relieve the suffering (compassion). service agents are only inclined to help the customer when empathy is triggered.
5.2 EMPATHETIC NEEDS DIFFER
Experienced providers recognize that empathetic needs differ. An introvert is likely to have different needs than an extrovert. A consumer will need more assurance when dealing with a provider for the first time than they will when they already know what to expect. Although, empathy can be improved by training and experience, some people find being empathetic easier than others.
5.3 CO-CREATIONAL EMPATHY
Service interactions are co-creational; the success of the interaction is therefore a joint effort. The consumer can influence the provider's performance by appreciating the time and effort taken to resolve the issue, or by saying that they understand the pressure to deal with other consumers. These expressions of empathy foster collaborative and productive interactions, and also benefit the longer-term relationship.
ouch and outcome over tech and output
Experience is not only important as a commercial value driver, but also to improve our emotional state, leading to better well-being for all involved and better business impact in terms of motivation and performance. In good IT service design, outcome prevails over output, and touch prevails over tech.
Increasingly, IT service managers extend the scope of their measurement and management of IT service quality to include aspects related to outcome, relationship, and experience. They foster the development and application of cognitive and affective empathy to stage an attractive experience. These initiatives help to elevate the IT service experience.
Acknowledgements
Many thanks to Antonina Klentsova and Barclay Rae for their valuable contributions to this publication. Antonina authored the white paper Experience level agreements in ITIL® 4. Barclay was the lead editor of ITIL® 4: Create, Deliver and Support.
Acknowledgements also to CitrusCollab, Giarte, and HappySignals for the progress that they are making in the field of service experience, and for what I have learned from them.
About the author
Mark Smalley, also known as the IT Paradigmologist, thinks, writes, and speaks about IT 'paradigms' (our changing perspectives on IT). Mark is a trainer/consultant at Smalley.IT, master trainer for GamingWorks' The Phoenix Project and MarsLander business simulations, and XLA
®
content architect at Giarte. He has contributed to many bodies of knowledge in the IT management domain, and was the lead editor of
ITIL® 4: High-velocity IT
.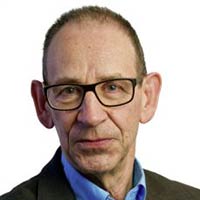 Further reading
AXELOS (2019). Experience level agreements in ITIL® 4. White Paper. Available at: www.axelos.com/case-studies-and-white-papers/experience-level-agreements-in-itil-4-(1) [Accessed 28/10/2020]
AXELOS (2020). ITIL® 4: Drive Stakeholder Value. TSO. London. Print.
AXELOS (2020). ITIL® 4: High-velocity IT. TSO. London. Print.
Hoffman, M.L. (2000). Empathy and Moral Development: Implications for Caring and Justice.
Cambridge University Press. Print.
Finister, J. (2012). Ban the SLA. Blog. Available at coreitsm.blogspot.com/2012/12/ban-sla.html [Accessed 28/10/2020]
Mayer, R. C., Davis, J., & Schoorman, F. (1995). 'An integrative model of organizational trust', The Academy of Management Review. 20(3), pp. 709–734. Available at: www.jstor.org/stable/258792 [Accessed 28/10/2020]
Smalley, M. (2015). Uncompromising algorithms + inconsiderate humans = poor service. Blog.
Available at: https://itchronicles.com/opinion/uncompromising-algorithms-inconsiderate-humans-poor-service/ [Accessed 28/10/2020]
Rae, B. (2014). Watermelon SLAs – making sense of green and red alerts. Blog.
Available at: www.computerweekly.com/opinion/Watermelon-SLAs-making-sense-of-green-and-red-alerts [Accessed 28/10/2020]
Rae, B. (2020). Watertight not watermelon 'SLAs'. Blog. Available at: www.barclayrae.com/watertight-not-watermelon-slas/ [Accessed 28/10/2020]
Reichheld, Fredrick F. (2003). The One Number You Need to Grow. Blog. Harvard Business Review. Available at: https://hbr.org/2003/12/the-one-number-you-need-to-grow [Accessed 28/10/2020]
End notes
Pine II, B.J.; J.H. Gilmore (2011). The Experience Economy, Updated Edition. Harvard Business Review Press. Print.
AXELOS (2018). ITIL® Foundation: ITIL 4 Edition. pp. 194. TSO. London.
J. Spohrer, S.L. Vargo, N. Caswell, P.P. Maglio (2008). The service system is the basic abstraction of service science, in Proceedings of the 41st Hawaii International Conference on System Sciences.
Appendix – examples of IT service experience metrics
These metrics extend the traditional utility and warranty metrics to include service experience. The metrics can be used for 'in time' (service interaction) and 'over time' (cumulative, relationship, trust) measurements. They address the service experience from a consumer perspective.
The consumer can be the customer who orders the service and is responsible for the outcomes, or the user who actually uses the service to achieve the outcomes. Similar experience metrics can be formulated from a provider perspective. For both the consumer and the provider, the service experience contributes to their general employee experience.
Customer satisfaction score (CSAT)
How satisfied are you with:
The provider's policies and decisions?
The provider's adherence to commitments (reliability)?
The provider's consistency over time?
The provider's learning and improvement over time?
The provider's flexibility to adjust to changed circumstances?
The provider's discretionary generosity, and balance of give-and-take over time?
The provider's transparency regarding their interests, constraints, dilemmas, concerns, etc?
Your emotional connection (rapport) with the provider?
The provider's understanding of your business and your work?
The provider's knowledge and 'technical' skills?
The provider's 'seamlessness' when dealing with multiple people and departments?
The waiting times?
The speed of execution?
The content and timeliness of progress updates?
The output and outcome of the service?
The value for money?
Customer effort score (CES)
To what degree do you agree or disagree with this statement?
It was easy to interact with the provider and get the required information and action.
Net promoter score (NPS)
On a scale of 0-10:
How likely are you to recommend the provider to family, friends, and colleagues?
The CSAT score is based on a 5-point scale: 1=very unsatisfied, 2=unsatisfied, 3=neutral, 4=satisfied, 5=very satisfied.
The CES score is based on a 7-point scale: 1=strongly disagree, 2=disagree, 3=somewhat disagree, 4=neutral, 5=somewhat agree, 6=agree, 7=strongly agree.
The NPS score is based on the percentage of respondents who gave a score of 9 or 10 (attractors) minus the percentage of respondents who gave a score from 0 to 6 (detractors).
For each metric, there will be a threshold (for example a CSAT of 4.25 or higher) and a weighting that reflects the relative importance of each metric. The metrics should be discussed on a regular basis. The insights from the discussion will often lead to calibration of the metrics, thresholds, and weighting.
These metrics are mainly applicable to human-human service interactions. Human-digital service interactions regarding the use of digital solutions and digital support systems (chatbots and other self-service tools, for example) can be addressed at a high level by the CSAT metric 'the output and outcome of the service' and the CES metric 'it was easy to get the required information and action from the provider'. However, it may be useful to define more specific metrics, such as CSAT regarding the ease of use, responsiveness, and availability of applications and devices.
The metrics can be grouped according to the kind of service (for example, development, implementation, use, and support) and the respondent (customers and users).
For a particular survey, a limited number of questions should be selected, depending on the primary concerns; for example, reliability, responsiveness, and empathy. It would be inconsiderate to burden a consumer with all of these questions at once. The questions should be selected and formulated with the type of respondent in mind, considering their past responses, recent interactions and experiences, and motivation to provide feedback. Assess the likelihood that they will benefit from the effort involved.
Considerate surveys engage consumers, inconsiderate ones are bad for engagement and trust. Do your questions reflect your understanding of your consumers and is it effective to share that understanding? Remember, surveys are also part of the service experience.