ITIL Guiding Principles for Continual Improvement

February 14, 2019 |
 15 min read
ITIL outlines seven guiding principles that can be used to guide an organization in all circumstances, regardless of changes in its goals, strategies, type of work, or management structure.
Introduction
The seven ITIL guiding principles are:
Focus on value
Start where you are
Progress iteratively with feedback
Collaborate and promote visibility
Think and work holistically
Keep it simple and practical
Optimize and automate
The guiding principles and the continual improvement model are both important parts of the ITIL service value system (SVS) that are applicable to all of the other SVS components, ensuring that the SVS as a whole operates with integrity and agility.
The continual improvement model provides simple and logical steps for an improvement initiative of any scale, and the guiding principles help in this by supporting good decision making at every step of the process.
ITIL Foundation core guidance
From the ITIL Foundation core guidance:
section 4.3: The ITIL guiding principles
The guiding principles... Embody the core messages of ITIL and of service management in general, supporting successful actions and good decisions of all types at all levels. They can be used to guide organizations in their work as they adopt A service management approach and adapt ITIL guidance to their own specific needs and circumstances. The guiding principles encourage and support organisations in continual improvement at all levels.
Section 4.6: Continual improvement
The ITIL continue improvement model can be used as a high-level guide to support improvement initiatives. Use of the model increases the likelihood that ITS M initiatives will be successful, puts a strong focus on customer value, and ensures that improvement efforts can be linked back to the organizations vision. The model supports an iterative approach to improvement, dividing work into manageable pieces with separate goals that can be achieved incrementally.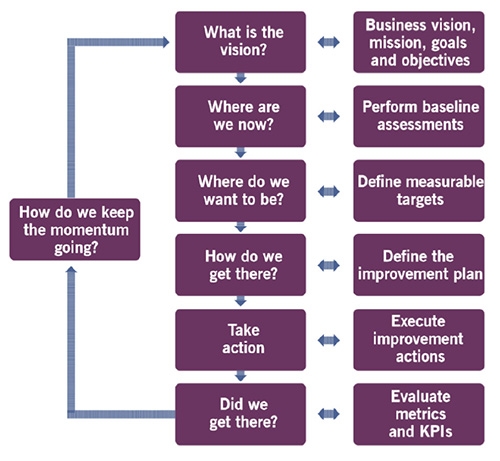 ITIL Foundation highlights which guiding principles are most relevant for each step of the continual improvement model. However, all principles can be helpful to some extent at every step of an improvement initiative. The table on our ITIL Guiding Principles document (PDF) can be applied to each improvement step.
Conclusion
The continual improvement model is applicable to all types of improvement initiatives, from minor service or operation improvements, to major organizational changes. The subjects and techniques of the improvement may change, however the approach remains universal, and so do the guiding principles. The above table provides a basic overview of how the guiding principles can apply to each step of the continual improvement model, but remember that the details, and the level of applicability of the principles at every step of improvement may vary. The above information is not meant to be used as a prescriptive list, instead, organizations should apply it as needed with an understanding of their own situation and context.
When an organization is establishing its own continual improvement practice, it should always keep each of the guiding principles in mind, as they are a great help in planning and managing an effective improvement. Continual improvement is the beating heart of service management, and by understanding and following the guiding principles, an organization can maximise its chances for continual improvement success.