Sponsoring PRINCE2 Agile White Paper

March 1, 2019 |
 15 min read
1. Why do I need to change my organization?
Why do I need to change my organization?
Today all organizations, no matter their size or sector, feel the effects of a constantly changing business environment. This is being driven by:
growing globalization
accelerating advances in technology
dynamic and volatile markets
ever-increasing customer expectations.
Organizations and project sponsors must recognize the need for change and learn to adapt quickly to it.
2. What does the PRINCE2 Agile sponsor do?
What does the PRINCE2 Agile sponsor do?
The executive owns the project. The executive and sponsor are only the same if the project is adopting PRINCE2 Agile®. The project sponsor/executive is the focus of accountability for the project and accordingly retains the ultimate decision-making authority within the project board whose role is to direct the project. The sponsor/executive represents the interests of the business. In the project board the sponsor/executive is supported by the senior supplier and senior user.
In an agile environment the sponsor needs to be familiar with the term 'value' as this will be used frequently by the project management and delivery teams. The PRINCE2 Agile glossary term for value is 'the benefits delivered in proportion to the resources put into acquiring them'. The term is often used interchangeably with the word 'benefits' and although they are similar in how they can be used, they are not identical.1
1 Please refer to AXELOS' Management of Value (MoV®) for more information.
3. The key elements of PRINCE2 Agile
The key elements of PRINCE2 Agile
PRINCE2 Agile is an extension of PRINCE2®. It provides guidance on how to configure and tailor PRINCE2 to operate in an agile context. In some situations, it may not be possible to go fully agile but there is nothing in PRINCE2 that prevents it working well with agile.
PRINCE2 and agile each have their own strengths, and when combined they complement each other and create a holistic approach to managing projects in an agile way. PRINCE2 gives solid management information and clarity regarding projects. Agile gives the means to deliver flexibly with a lot of business engagement. PRINCE2 Agile includes both elements.
This can be seen in Figure 3.1. From a sponsor's perspective, it is important to understand that PRINCE2 sets up agile working just as well and just as diligently as it does any other type of delivery method within the project. The agile delivery method must support the project just like all other delivery methods. As shown in the diagram, PRINCE2 Agile involves blending PRINCE2 and agile rather than using them in parallel. This requires the PRINCE2 method to be executed well and the agile team members to continue working with the required agile behaviours (see section 3.1 for more details).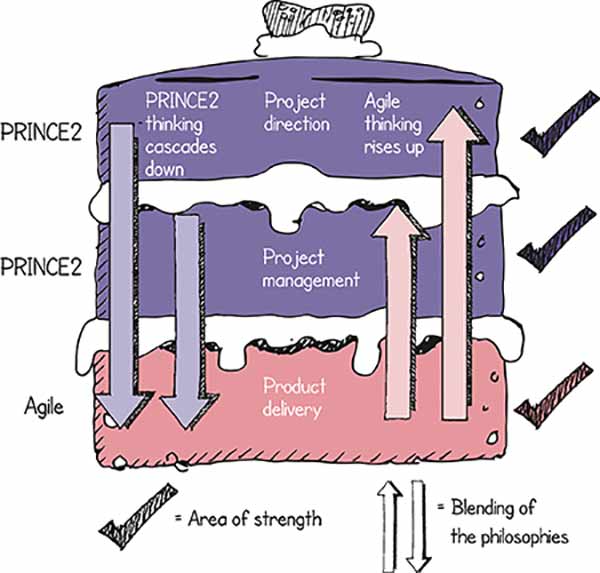 Figure 3.1 Blending PRINCE2 and agile together
The design of the fighter aircraft in Image 3.1 provides an example to help understand the PRINCE2 Agile approach. The agile element is represented by the deliberately unstable airframe. This instability gives it agility and allows it to change direction easily and adapt quickly to changing conditions. The PRINCE2 element is represented by the pilot and on-board computer which provide good governance for the aircraft. The on-board computer represents the project executive: it will stop manoeuvres that could harm the airframe or the pilot.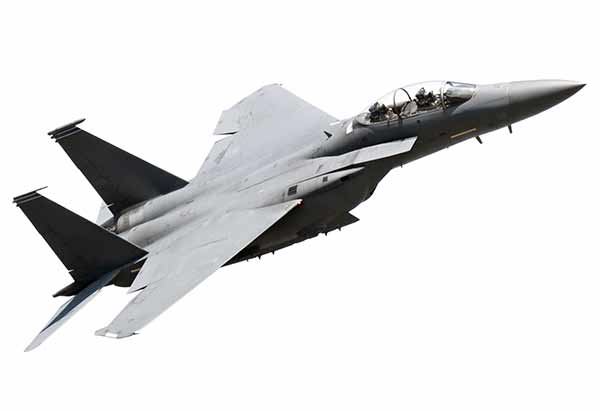 Image 3.1 An agile fighter aircraft
PRINCE2 Agile shows how projects can be managed effectively by combining the good corporate governance of PRINCE2 and the flexibility provided by agile frameworks, behaviours, concepts, techniques and key focus areas. This is represented in Figure 3.2. As a sponsor, you will get the most from PRINCE2 Agile by comprehensively embracing all five areas simultaneously when delivering projects.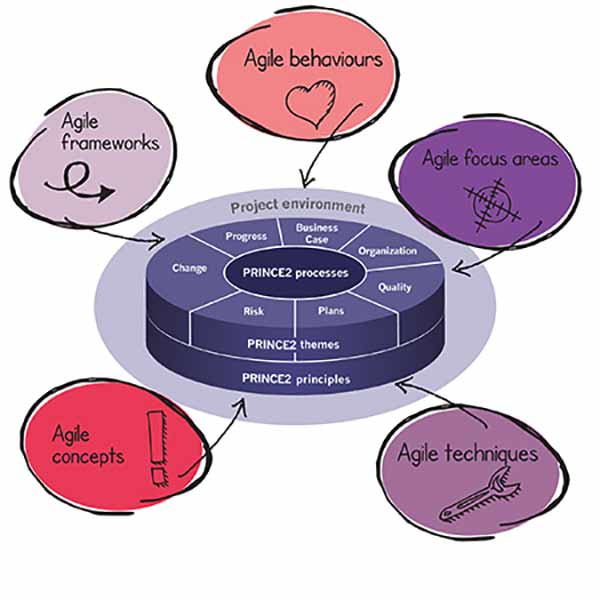 3.1 AGILE BEHAVIOURS
There are specific behaviours that underpin agile working practices or concepts. These behaviours include being collaborative, self-organizing, customer focused, empowered, transparent and trusting not blaming. As a sponsor, it is your role to endorse and champion all these behaviours across your organization.
3.2 AGILE CONCEPTS
Agile concepts are fundamentals that need to be understood by all who are engaged with agile delivery, especially senior management and thought leaders. The concepts cover:
prioritizing what is delivered, not attempting to deliver everything at once
working iteratively encouraging regular delivery of value
review, feedback and redefinition of what is required
incremental delivery
flexing the scope of delivery so that time and cost remains fixed
limiting work in progress.
For successful adoption, these ideas need to be propagated throughout the organization.
3.3 AGILE AREAS OF FOCUS
The principal PRINCE2 Agile areas of focus are:
the Agilometer: this is a tool that rates the organization's ability to accommodate agile project work (for more information, see section 6.1)
requirements: these define product descriptions and feed into the concept of 'prioritizing what is delivered'
rich communication: this mitigates communication issues which are sometimes the cause of major problems on projects
frequent releases: these enable an early delivery of value to the customer and increase stakeholder confidence
creating contracts when using agile: this involves choosing contract structures (between a customer and a supplier) that reflect the responsibilities and risks of working on projects in an agile way.
If the organization uses PRINCE2 already, the areas of focus are needed to help PRINCE2 Agile operate in the environment. However, if PRINCE2 is in the process of being adopted, this will help it fit with the agile teams.
3.4 AGILE FRAMEWORKS
There are several specific frameworks that are classed as Agile, for example DevOps, Kanban, Lean, Lean Start-up, SAFe and Scrum.
3.5 AGILE TECHNIQUES
There are practices or tools such as Burn charts, user stories, retrospectives, time boxing and measuring flow. For more information please refer to section 2.2.2 in PRINCE2 Agile.
4. How will PRINCE2 Agile benefit my organization?
How will PRINCE2 Agile benefit my organization?
Sponsors need to be aware of the five targets that provide the case for PRINCE2 Agile flexible working:
Be on time and hit deadlines.
Protect the level of quality delivered.
Embrace change since it is going to happen anyway.
Keep teams stable.
Accept that the customer does not need everything at once and that everything might not get delivered.
As a result, PRINCE2 Agile provides the following benefits to organizations; it:
helps organizations at any point in their agile journey
increases an organization's ability to apply agile
provides detailed guidance on how to apply PRINCE2 when managing projects in an agile context
allows an organization to build upon the existing PRINCE2 best practice and to incorporate all of the benefits that agile delivery brings to some projects
helps protect the quality of what is being delivered while being responsive to the needs of customers
builds on the existing strengths of PRINCE2
empowers teams through greater degrees of collaboration and transparency
helps control costs and time by fixing them during product delivery; by fixing tolerance it makes variance much more visible and allows us to deliver effectively without cost and time overruns.
One of the key ways in which PRINCE2 Agile delivers on the promises made in the points above is by identifying six aspects of a project that have some degree of flexibility and to which tolerances can be applied.
These are:
time
cost
scope
quality
risk
benefits.
Time and cost within PRINCE2 Agile deliveries are usually fixed, which means that there is zero tolerance for these aspects on all levels of planning.
The best way to show how all six aspects behave in a PRINCE2 Agile context is in the form of a hexagon, shown in Figure 4.1. The hexagon illustrates how the competing constraints on a project are to be set and managed in an agile context. It explains what to fix and what to flex when using PRINCE2 Agile.
The variables in this context typically focus on what is being delivered: it is the scope (in the form of prioritized customer requirements, features or functions) that is managed. This is in turn how agile achieves the appropriate level of quality while at the same time meeting deadlines.
One of the key features of PRINCE2 is the use of tolerances that enable a project to be managed by exception. The project board and project manager set these, thereby empowering the teams and individuals to get on with their work until the tolerances are forecast to go outside their limits and into exception. At this point, the exception is escalated to and resolved by the project board in a timely fashion. Therefore, from a sponsor perspective, it is important to understand and adhere to the manage by exception principle. This is what sets up your early warning system and allows agile projects to be transparent and visible within your organization.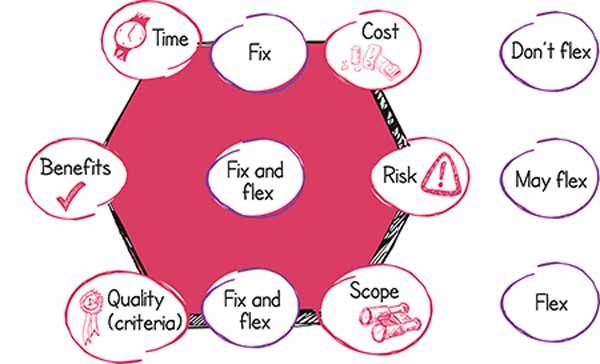 Figure 4.1 Applying tolerances to the six aspects of a project
In the hexagon above, the following conditions apply:
There is no flexibility on time: it is fixed and the project manager cannot move any deadlines. If a deadline needs to be moved, an exception must be raised with the project board for resolution.
Likewise, there is no flexibility on cost because this is also fixed. Adding resources to speed up delivery over the short term will cause an exception to occur.
There is flexibility with respect to the tolerances for the scope. It is assumed that not everything will be delivered but that tolerances will be set to describe what can be allowed and at what point an exception needs to happen (for example, when too much has been descoped). There is zero tolerance for products that are essential, but tolerance may be used for products that are desirable but not essential. One warning sign for any project is when all the products are considered essential. This means that there is zero tolerance on all products. This condition requires more finesse, categorization and prioritization of the products defined in the project. The problem of 'all products are essential' occurs frequently in organizations and also applies to the points below.
With regards to quality, not all acceptance criteria and quality criteria are of equal importance, therefore they can be prioritized. In terms of the customer's quality expectations and acceptance criteria, there is zero tolerance for those that are essential, but tolerance can be applied to those that are not. With regards to the quality criteria within product descriptions, there is zero tolerance for those that are essential, with tolerance being used for those that are desirable but not essential.
For benefits, there is zero tolerance for the level that is defined as 'minimum viability' in the business case. Tolerance may be used above this level.
With risk, there is zero tolerance for risks above the level agreed with the project board. Once that level has been exceeded the issue must be escalated. Tolerance may be used for risks that are below this level.
5. How do I adopt PRINCE2 Agile into my organization
How do I adopt PRINCE2 Agile into my organization
As a sponsor, it is important to define a clear vision of the future that you want or the direction you want to take. It will be a journey of small steps and will not happen overnight. No matter how small or large the organization, it will take time to adopt the method. Stakeholders, both internal and external, need to be made aware of this. In this context, stakeholder engagement is critical.
As a sponsor deciding to adopt PRINCE2 Agile into your organization, you need to understand:
where you are: document what you know, including the views of stakeholders from across the organization regarding the attitude towards agile ways of working.
where you want to be and how PRINCE2 Agile will get you there: PRINCE2 Agile provides greater control over investment decisions at project start-up and closure.
how your market is changing: a key focus area for PRINCE2 Agile is a better responsiveness to customer requirements. PRINCE2 Agile provides organizations with what they need to flourish in today's business environment in the form of early learnings, reduced risk and faster delivery of benefits. By breaking down a complex problem into smaller chunks it is quicker to get customer feedback and therefore stay on track. When items are smaller, they progress faster and it is easier to make many smaller adjustments which provides stakeholders with confidence in what is being delivered.
which problems you are trying to solve immediately and which ones you are solving in the long-term. PRINCE2 Agile provides a stronger alignment across all projects within an organization.
how your organization reacts to change and if this involves the adoption of Managing Successful Programmes or AgileSHIFT. The governance provided by PRINCE2 Agile mitigates the possibility of 'viral' or 'fragile' agile taking place, which are some of the side effects of poorly implemented agile.
6. Your PRINCE2 Agile journey as a sponsor
Your PRINCE2 Agile journey as a sponsor
Your PRINCE2 Agile journey as a sponsor can be described by the three following steps:
know your project environment
be prepared
keep on track to your destination.
6.1 KNOW YOUR PROJECT ENVIRONMENT
The first step as a PRINCE2 Agile sponsor is understanding your organization's current position in relation to project practices and the organization's attitude to project work and agile in general. You can undertake an Agilometer assessment (a key focus area within PRINCE2 Agile) to assess the agile environment. For impartiality, it is advisable that the Project Management Office (PMO) or Centre of Excellence (COE) conducts this assessment.
The Agilometer is composed of six key areas, including the acceptance of agile in the organization, and has the following structure:
7. How is your PRINCE2 Agile journey progressing?
How is your PRINCE2 Agile journey progressing?
As a sponsor, you will want assurance that the journey is progressing well. There are some key questions that should be asked to ascertain this:
Is there successful collaboration between teams?
Is there transparency between the teams?
Is communication effective? Is a rich communication environment in place? In this instance, is the right channel being used for conveying a message at the right time?
Is it easy to see if a project is under control?
Are people 'thinking agile'?
Are product/service deliveries happening frequently?
Are teams self-organizing?
Are customers fully engaged?
Are projects delivering benefits early in their lifecycle?
Is planning a team-based activity?
Do teams use exploration techniques to resolve issues?
Are project boards empowering the teams?
Are project boards adopting a 'servant leadership' approach to the project manager and the project management team? Is a team ethos of 'we' endorsed?
Has an Agilometer assessment been carried out?
Have the prioritized customer requirements been captured correctly?
The answers to these questions can be represented in a simple traffic light dashboard to highlight to sponsors any behaviours that need attention or may be damaging to projects. A classification of the traffic light dashboard could be described as follows: red = never/no (less than 25%), amber = largely (26-85%), green = fully (more than 85%).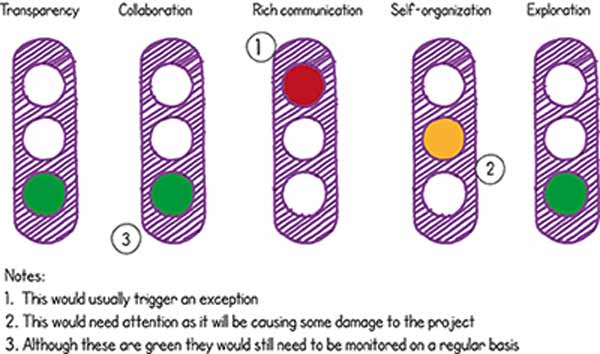 Conclusions
It is not uncommon to assume that bringing more governance into an agile domain could stifle the creativity and benefits of agile working. However, PRINCE2 Agile represents a partnership that is based on the view that good governance allows agile to be used even in project environments that are complex and involve multiple teams. PRINCE2 Agile gives guidance to help you check the suitability of your project environment for using agile. It allows you to be on time and hit deadlines while protecting the level of quality by fixing and flexing what is required based on prioritized customer requirements.
Adoption of PRINCE2 Agile into your organization is a journey and it is best to take small steps along your chosen path, constantly monitoring your progress, learning from experience and improving what you do. The sponsor needs to know what the PRINCE2 Agile method entails and what benefits it can deliver. For this, the sponsor can use pilots of PRINCE2 Agile within the organization to increase stakeholder confidence prior to full roll-out throughout the organization. If you have already adopted PRINCE2, there is no need to use an alternative approach because PRINCE2 Agile builds on the investment you have already made.
References
AXELOS (2018) A guide to AgileSHIFT, TSO, London.
AXELOS (2010) Management of Value (MoV®), TSO, London
AXELOS (2011) Managing Successful Programmes, TSO, London.
AXELOS (2015) PRINCE2 Agile, TSO, London.
About the author
Allan Thomson has over 25 years' project and programme experience. He has worked with companies such as British Gas and BP in Customer Relationship Programme Management and Risk Programme Management respectively. He joined AXELOS in 2014 and has acted as a Programme Manager and SME (Subject Matter Expert) for PRINCE2 Agile, and as an SME on the PRINCE2 2017 update. He is presently a PPM (Project and Programme Management) Product Ambassador.