Digital transformation – pivoting customer-focused strategies

January 28, 2021 |
 3 min read
When an organization is going through a rapid modernization programme – and ultimately digital transformation – it needs clarity around its operating model.
This is not just about having an organizational chart but rather the capabilities an enterprise needs to invest in. Therefore, rapid modernization tends to be driven by agility, adopting new technology and – above all – pivoting to the "age of the customer".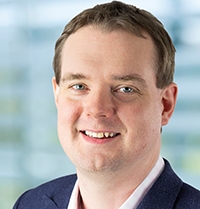 In this context, operational excellence becomes more critical than just "keeping the lights on". It's about continual innovation based on customer data insights and building capability in an agile way (in parallel rather than sequentially – i.e. as you're "flying the plane").
Why customer-driven transformation is important
Some digital transformations are driven purely by revenue rather than the customer. Unfortunately, it's a short-term view to not focus on how customers interact with a business, what their pain points are and where new opportunities exist.
The challenge is getting real-time feedback and ensuring strategy is working in line with that, which means reducing the time between a customer interaction with the business and learning from it.
With the cost of entry to many industries falling, the risk of disruption happening is higher. So, it can be terminal if organizations fail to develop a customer-driven strategy now and don't adapt based on customers' changing needs.
Customer-driven strategies and CX/EX
Having the operational ability to pivot and innovate isn't fuelled by technology alone: organizations need to focus also on people, specifically customer experience (CX) and employee experience (EX).
Our research has shown that having happy, productive and engaged employees will affect their relationship with customers. In fact, you can't have good CX without developing good EX first and this has been overlooked too often.
In terms of CX, it's vital to have journey maps and customer personas to know how people feel throughout their interaction with the organization and what is happening internally that contributes to that. Ultimately, success depends on the "three Es":
For example, cosmetics company Sephora offers customised products and services and an entire customer experience based on personalized customer data. This data is captured from past purchases, spending habits and browsing activity to recommend products that might interest specific individuals.
Achieving this level of personalization means engaging customers throughout your strategy; bringing them into the conversation to get perspectives you wouldn't otherwise have.
ITIL 4 Digital and IT Strategy: an approach to operational excellence
If you're looking for a holistic approach to CX, EX, journey mapping and creating customer personas, for example, ITIL® 4 Digital and IT Strategy is a good source of guidance but without being prescriptive.
Among the guidance is the concept of "objectives and key results" to help organizations execute their strategy and validate the progress they are making. This is used by companies such as Google and Intel along with newer, disruptive businesses that want to achieve a high level of focus on strategy and the outcomes they're trying to achieve.
Included in that are ideas about sourcing and workforce strategies – such as optimizing the skills and capabilities provided by employees and vendors – to obtain the right capabilities a business needs, whether in-house or outsourced.
The capabilities your organization develops will feed directly into operational excellence which, today, is about being able to change, improve easily and adapt quickly in the marketplace. This means building the foundation to be more agile, adopt newer technologies and deliver customer delight, as well as ensuring a high level of day-to-day performance.
ITIL 4 Digital and IT Strategy helps you design a strategy that connects your existing business model with the ability to continually improve through agility and customer insights.