Programmes: leadership and stakeholder management skills

March 4, 2016 |
 5 min read
Typically, the scope and duration of programmes is significantly greater than that of a single project.
Consequently – and in contrast to projects – they demand greater leadership and stakeholder management skills from programme delivery professionals in order to achieve programme success.
Firstly, Programme Managers are required to deal with a far wider range of stakeholders. Many of these stakeholders are (often senior) operational managers from multiple divisions within the organization with conflicting views on the current position and associated problems, the strategy deployed and the planned approach.
Furthermore, the various divisions represented often have differing cultures, so multiple approaches are required to communicate and implement the required changes effectively. When dealing with such diverse aspects of the business, Programme Managers often face the challenge of legitimacy. They need to be able to demonstrate a real understanding of the business along with the ability to articulate the impact and contribution the programme will make to the ongoing and future success of the organization. Programme Managers will need to build and maintain relationships over a much longer period of time, normally equating to several years, to ensure the changes are fully embedded into the organization.
Secondly, the Programme Manager is required to deliver the programme through a complex matrix management structure. Even in organizations with a high level portfolio, programme and project maturity, the Programme Manager will have to provide leadership to both the programme and project teams as they deliver the changes and the operational business units as they go through transformational change. Programme success is predicated on these leadership skills as they determine the level of influence the Programme Manager has across the organization.
A Programme Manager without sufficient stakeholder and leadership skills can easily antagonize the organization, bringing resistance to the programme and significantly reducing the chances of delivering the strategic aims of the programme. Buy-in to the programme is based not just on whether the affected individuals agree with the changes the programme will bring, but also the manner in which the programme is delivered. If the approach leaves a bad taste and lingering distrust across the organization, it will drastically reduce the half-life of engagement and commitment among employees.
What leadership and stakeholder management skills win in programmes?
Ultimately, transformational programmes are about getting an organization to change and do things differently. A successful Programme Manager will have leadership and stakeholder management skills underpinned by or rooted in a high level of personal integrity and emotional intelligence. Specific skills include:
AWARENESS OF SELF AND OTHERS: Programme Managers need to have an understanding of their leadership style and its impact on others. Linked in with this skill is the ability to flex their leadership style to get engagement, support and contribution to the programme.
LISTENING AND EMPATHY: Programme Managers need to recognize and acknowledge the challenges stakeholders will face in accepting and embracing the required changes. That means winning hearts and minds by showing a level of sincerity and real understanding of the pain people are going through. Only in recognizing these challenges will the Programme Manager be able to provide the required level of support to fully embed the changes in the organization. An aggressive approach may get people to do new things in the short term but will fail to embed it for the long term.
PERSONAL RESILIENCE: Programme Managers need to continue to lead the programme and promote the vision through the thrills and spills of the programme. By their very nature, programmes contain ambiguity, uncertainty and conflict. Programme Managers will need to have a high level of personal resilience to be able to deal effectively with everything the programme throws at them.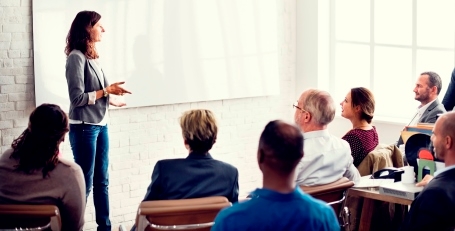 Project management and programme management – Mars and Venus?
Effective Project Managers require leadership and stakeholder management skills to complement their more essential technical delivery skills. However, Programme Managers' success rests predominantly on their leadership and stakeholder management skills due to the scope and timescales involved in programme delivery.
Within programmes – in contrast to projects – the Programme Manager is required to lead through high levels of ambiguity, uncertainty and conflict; to lead people's imaginations about the "new world" of the organization in the development of the blueprint and lead people through transformation change – aspects of programmes that do not feature in projects.
Developing the skills
While standard project management courses (including certification courses) have sections on stakeholder engagement, they rarely go beyond providing a four-box matrix for categorizing the current perspective/view of each stakeholder or stakeholder group in order to build a communication plan. This needs more focus on building and maintaining relationships. Similarly, project management training touches on leadership, and the different styles of leadership but not how to develop personal skills to be able to flex between the various leadership styles.
Although there is a need for greater focus on leadership and stakeholder management skills within formal training courses, most learning comes from personal experience – successes and failures you have. It is important for practitioners to reflect on these successes and failures and continue to learn as you progress through your career. You can then fill gaps in your learning by seeking out extra information and learning from best practice texts or CPD events from institutions such as the Change Management Institute of Association of Project Management.
Today, practitioners recognize the importance of leadership and stakeholder management skills. And, at the root of successful leadership and stakeholder management is being able to build trust; not only recognizing it, but knowing how to do it
See our Managing Successful Programmes (MSP®) section for more information about programme management.
Do you have experience of working with both Project and Programme Managers, or have you worked in both roles yourself? Did you find that the skills required for both differed, as Eileen suggests, or was there more overlap and similarity in your experience? Please share your thoughts in the comments box below.