Transforming customer journeys with ITIL 4 Drive Stakeholder Value

November 26, 2020 |
 3 min read
In the pre-Covid world, what were the most important elements of customer service interaction and what's changed?
Taking the example of a restaurant, service was about managing the demands of customers such as their waiting time for a table, how long it took to get a menu and letting them know what was available that day.
Alternatives to what was on the menu were explained by interaction with waiters/waitresses; for example, the "intelligent disobedience" of a service assistant who went above and beyond to provide something that wasn't strictly on the menu.
However, anybody visiting a restaurant in the Covid era will notice a major change: QR codes for accessing and ordering from digital menus and even virtual queueing.
The transformed customer journey
Digitalisation of the dining experience has now minimised interaction with human beings and, in turn, so-called "moments of truth": service interactions affecting the way you feel and quality of the service.
The service blueprint for these technology-driven interactions overrides intelligent disobedience and expects all parties to accept the reduction in human contact.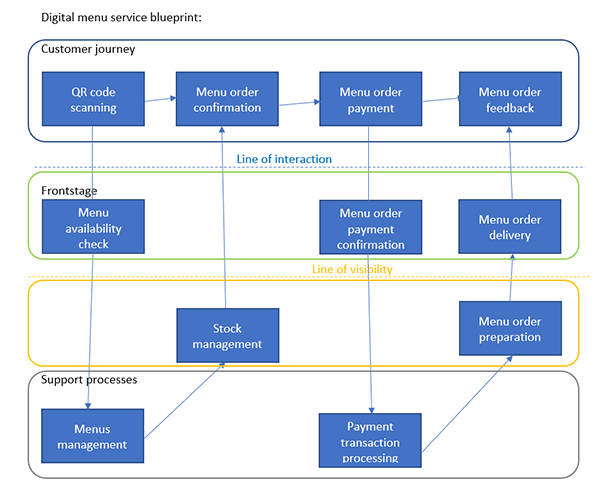 Underpinning this transformed customer journey is the imperative for safety. And that goes beyond having a clean restaurant; it's really about managing all interactions that pose a risk to both customers and staff.
How do ITIL 4 principles help?
Work I've done during the pandemic to overcome these challenges for a major restaurant business has used structured, ITIL® 4 Drive Stakeholder Value (DSV) approaches to provide services and realize value.
Explore: with Covid, the impact was sudden with little time for exploration. So, the added value is adapting to the situation. For example, ensuring a maximum number of people can continue working and businesses can function. This is really about continuity management.
Engage: working with different stakeholders to ensure continuity of activities and understanding the limitations in skills and availability. For a restaurant, this means having digital menus to ensure they can continue serving customers.
Offer: design the service blueprint (for the digital menu) which outlines how you will deliver your service.
Agree: be sure the service meets the need and is compatible with stakeholders, e.g. ensuring the QR code is updated with menu details.
Onboard: enabling new customers to access the menu via the QR code with any smart phone. Focus on user engagement and experience to ensure it works for the customer.
Co-creation: in this case, complying with safety requirements to enable the restaurant to provide food and drinks. A customer asking for a physical menu is not contributing to the co-creation of value in this context.
Realizing value: managing the peaks and troughs of restaurant visitors and ensuring customers can obtain a service and pay for their purchases.
The future for service management
For many businesses – and customer experiences – changed by the pandemic, there is probably no way back to the way things were done before.
The current pressure to ensure safety and social distancing means there is a new standard for interactions between service provider and customer. Consequently, the pandemic has accelerated digital transformation for business.
Whether it's having the ability online to renew a driving licence or book a haircut, people are now pushing providers to do things more digitally. Yes, it's about customer experience but also managing relationships with stakeholders (e.g. suppliers) and using digital technologies to achieve this.
Ultimately, to succeed and respond to customer demands in this new world, organizations will need to think seriously about – and dramatically change – their business models.