Best practices for automation in IT&SM

October 20, 2020 |
 14 min read
Automation in IT is nothing new. From data centre scripts, through to the ever-evolving IT and service management (IT&SM) workflow automation tool, to service orchestration. Now, there are even more opportunities for organizations to benefit from the automation of work via the introduction of artificial intelligence (AI) capabilities.
Automation adoption is an increasingly popular IT&SM strategy, thanks to a variety of drivers. From the advancement of automation technologies, to the need for IT organizations to be better, faster, and cheaper, automation is driven by rising business and employee expectations and the shadow of current and future staffing shortages.
ITIL® 4 reflects this need to optimize service and support operations and outcomes, particularly with the help of automation. This is reflected in the guiding principle optimize and automate which states that:
'Resources of all types, particularly human resources, should be used to their best effect. Eliminate anything that is truly wasteful and use technology to achieve whatever it is capable of. Human intervention should only happen where it really contributes value1'.
To help with your organization's IT&SM automation strategy and investments, this paper explores several automation best practices provided by IT&SM tool vendors and IT industry analysts.2 There is also an overview of the various automation opportunities and high-level customer success examples, which outline how automation has positively impacted a business's operations and outcomes.
2. Automation: a quick overview
Companies have automated work since the Industrial Revolution in the 18th century, when manufacturing transitioned from craft production to machine manufacturing. 'Automation is the technology by which a process or procedure is performed without human assistance.'3
In terms of IT&SM, ever since the birth of the service desk, the technology has matured, adding more features to increasingly automate the manual work associated with the management and support of IT services. The need to automate across multiple infrastructure platforms has grown as the IT infrastructure has become more complex and heterogeneous. For example, in the end-to-end automation of digital service delivery.
Modern automation capabilities are a perfect fit for IT service delivery and support operations, from the necessity of keeping the lights on to the manually intensive firefighting in IT support.
Automation helps IT&SM in many ways, with the possible benefits including:
Increased speed of execution: automation is faster than people and can provide 24x7 availability in IT support.
Reduced operational costs: automation is quicker and more readily available, but it is also cheaper relative to the cost of human labour that would otherwise need to be employed.
Improved end-user experience: whether end-users are employees or external customers, increased speed and the other factors help to deliver better services and support.
Extended and enhanced human capabilities: automation, especially when combined with AI, can increase the efficiency of the service and the support personnel, from knowledge provision to reducing repetitive tasks.
Reduced human intervention: automation does not only replace discrete human activities, it can also connect other automation based activities.
Reduced human errors: human errors, even the simplest ones, can be expensive. Automation accurately and consistently performs what it has been programmed to do.
Platform for additional improvement: automation should not be a like-for-like replacement of manual operations, it is also an opportunity to pursue improvement opportunities and innovations in new ways of working.
Greater flexibility and adaptability: it is easier to change automation than the people-based equivalents because, for people, their day-to-day practices are ingrained and difficult to change.
These benefits are related to traditional IT&SM automation, which are now amplified and extended through the introduction of AI-enabled capabilities aimed at:
providing contextually relevant knowledge to users and staff (via chatbots and virtual agents)
intelligent automation of tasks and processes
predictive analytics that can be applied to address issues before they happen
ongoing learning and improvement.
Ultimately, the introduction of automation and AI helps organizations optimize operations, performance, services, and outcomes.
3. The ongoing rise of automation
There is a wealth of IT&SM opportunities for automation and AI. Many IT organizations already recognize this, particularly for the IT service desk. Automation, and increasingly AI, release overworked IT staff from high-volume, low-value, and repetitive tasks.
This has been proven in IT&SM industry research. For example, the Service Desk Institute (SDI) A view from the frontline 2019 report from the Service Desk Institute (SDI)4 found that automation and AI are the most wanted innovations and improvements in IT&SM tools.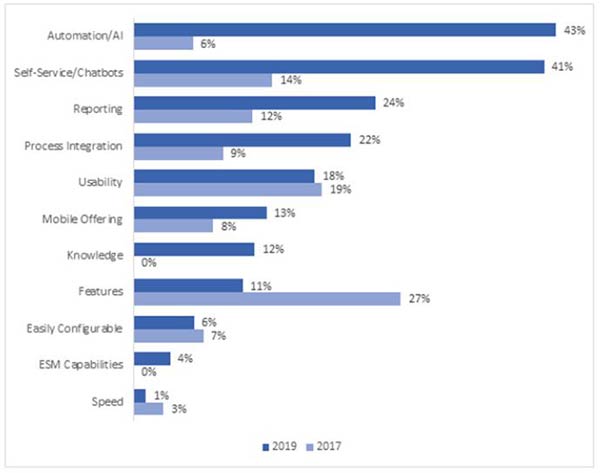 Figure 3.1 Key innovations/improvements in the IT&SM tool in the next 12 months
Automation based improvements will continue throughout 2020. For instance, automation is seen as a solution to many IT support challenges and opportunities.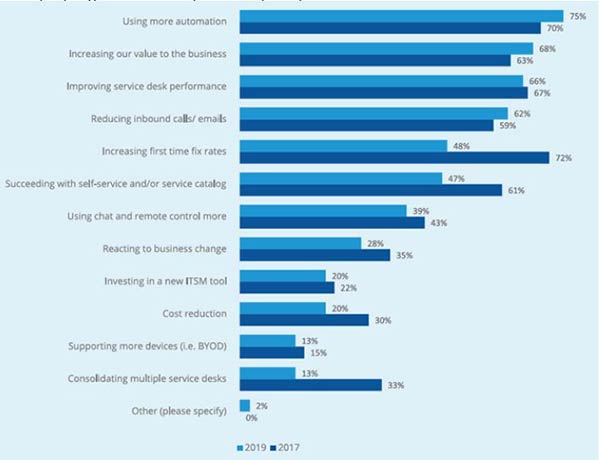 Figure 3.2 Top IT service desk priorities for the next 12 months
4. Examples of IT&SM automation
The ability to utilize IT&SM tasks or to predict the likely future using automation and AI is only limited by the user's imagination. For example, automation can help with both routine and complex tasks, reducing the manual effort of repetitive work and providing standard, optimized workflows and processes.
More specific examples of the opportunities for automation in IT&SM include:
workflow process automation for incidents, problems, changes, and so on that ensures consistency, predictability, speed, and governance
automated service request fulfilment from a service catalogue
automated password resets, which should be a self-service option
automatic triaging of email requests
automatic escalation of service level agreement (SLA) breaches
automated collection and reconciliation of hardware, software, configuration, and status data
automated management of asset moves, with the asset changes and configurations automatically updated upon execution
automated impact analysis for change requests
automated service modelling, which discovers the relationships between business services, applications, middleware, and infrastructure
runbook automation/service automation, the automated orchestration of actions, such as API calls and scripts, across different tech platforms
automated deployment of services/applications or patches
automatic auditing, the automated collection and aggregation of compliance data
automated discovery and resolution of non-compliance issues
automated remediation such as a self-healing infrastructure.
Where IT&SM tool vendors provide more than IT&SM process enablement, there is an opportunity for automation across the IT teams. For example, when developers and support teams work on the same platform, automation can link issues to provide visibility to both development and support teams, automatically add comments in ticket documentation, and keep developers, support analysts, and customers informed.
Also, as an extension of this, APIs and integrations automation are not confined to the employed IT&SM tool. For example, the workflow automation within an IT&SM tool can call the REST API of third-party products, to access external data and capabilities. For example, IT provisioning and remediation through third-party automation and orchestration tools can be invoked using cloud automation tools. Alternatively, a Trello REST API can be called to access a list of projects and tasks, or to create a new card in the Trello app.
APIs and integrations allow automation to be used across business functions. A common use case is the onboarding of new hires, with the automation handling the creation and assignment of onboarding tasks, and sometimes task execution, for new hires across various systems specific to business functions.
5. Automation and the power of AI
Increasingly, AI, especially via machine-learning-based virtual agents and chatbots, and robotic process automation (RPA) are employed by organizations to transform their IT&SM and IT operations management (ITOM) capabilities from reactive to proactive, predictive, and preventive. AI capabilities are applicable to many facets of the IT service delivery and support operations, including discovery, monitoring, service delivery itself, issue remediation, operational optimization, and the provision of user-friendly omnichannel service and support capabilities.
The AI-enabled capabilities that provide the greatest traction for IT&SM include:
chatbots and virtual agents: for end-users and IT staff
intelligent ticketing: which removes field-filled forms
in-process intelligence: such as smart ticket processing, the automated categorization, prioritization, assignment, and actioning of incidents and requests
AI assisted knowledge management: intelligent search and recommendations, automated email responders that offer the most likely solutions, the automated identification of knowledge gaps, and AI created knowledge articles
AI assisted decision support and trend identification: from hot topic and problem identification to demand planning and staffing optimization
AIOps: intelligent event management that highlights what is important amid the noise and takes appropriate action, which can include automated remediation.
6. IT&SM automation best practices
The following 10 IT&SM automation best practices have been sourced from various IT&SM tool vendors and industry analysts. These have been edited to merge similar best practices, for conciseness and include the addition of supplementary advice.
Do not start, or continue, without a formal automation and AI strategy: according to the HDI study The state of user-facing knowledge and knowledge management in 2019"5 in Q2 of 2019, 61% of respondents said their organization did not have an overall AI strategy. While this might be perceived as a reluctance to embrace the opportunities of AI, the same study found that 58% of respondents had favourable perceptions of AI, while only 3% had unfavourable perceptions.
Automate based on business value, not technology availability: Look at how automations work together collectively in a value chain to deliver recognizable business outcomes, such as improved customer experience, reduced IT costs, doing more with less, and security and compliance. By making automation business relevant, automations are positioned as solutions to specific challenges, not just an additional piece of technology.6
Take a business case approach to automation: as an extension of point 2, also consider effort versus reward when implementing automation. Although it might be tempting to automate everything, not all automation initiatives provide equal benefits. Therefore, it is important to spend time understanding the potential benefits of automating an activity before investing in the effort. Prioritize the opportunities that provide the greatest business value.7
It is important to get the basics right first: IT&SM leaders must focus on ensuring that their IT&SM house is in order before adding in automation and AI. Since automating a bad process is simply accelerating the process to a poor outcome. While process optimization has rapidly entered the forefront of pre-implementation work (for automation), finding the right data is often a much bigger issue.8
Consider automation technologies in the context of existing IT estate: when selecting automation tools, it is important not to overlook whether a tool integrates well with the existing IT stack. For example, if deciding whether to automate the provisioning/deprovisioning of a server, it is not enough for the automation tool to create a ticket and assign it to the right group. The tool should integrate with the IT stack to provision/deprovision the server and relay the outcome back to the tool.9
When selecting an automation tool, consider the ease of use for all users: do not create something that can only be used by developers or by those who can code. It is especially critical when it comes to continual improvement, even for the smallest of improvements. For example, if an empowered support analyst identifies an opportunity to work more efficiently or to improve a process for a customer, they can adjust the automation rules on the fly without needing a developer's knowledge.10
View automation opportunities in different stages or steps: the first step in automation can be the automation of processes and related workflows. For example, the sending of an email or moving a record as part of the process (e.g. incident management from one process step to another). This could be called foundational automation, something that you see in most IT service desk software tools. For the second step, look at the same process or workflow to consider which activities/tasks can be automated (via orchestration). For example, the transfer of a record to the active directory team. A characteristic of this is the execution of something outside of the IT service desk on another system and software tool. The third step can introduce AI and machine learning. For example, someone submits a ticket with a screenshot error message via the self-service portal, OCR then converts the screenshot into a meaningful ticket, and smart ticket learning teaches SMAX when this type of issues occurs to know what it is and connects the dots, and then automatically remediates the ticket by proposing or executing a solution.11
Appreciate that knowledge and data are key ingredients for IT&SM automation: knowledge allows everything from routine tasks to complex processes to become more structured, organized, and standardized. Automation technologies rely on data, whether it is customer ratings or the resolution metrics associated with knowledge articles fuelling chatbot content. Alternatively, predictive resolutions leveraging extensive configuration and asset management databases. The real challenge is that much of the knowledge and data that automation and AI technologies relies on is missing. Hence, building a solid data foundation is critical to the success of iterative automation.12
Realize that partner networks can be differentiators for automation and AI: the idea that CIOs and their teams can buy credible automation capabilities out of the box (in the same way that they have consumed IT&SM toolsets since the SaaS revolution) is fanciful. Although automation capabilities are increasingly built within products, the real differentiating capabilities are currently coming from the major consultancies and IT services firms within the partner networks.13
Leverage open integrations to generate the best in breed capabilities: a challenge for many IT executives is the decoupling of automation from the traditional purview of the CIO. Business leaders are embracing automation in their business lines, which is fuelled by the increasingly business-friendly interfaces of solutions. For instance, major RPA vendors, such as Blue Prism, Automation Anywhere, and UiPath, are marketing and selling to business users rather than the corporate IT organization. In many ways, this has opened a Pandora's box of innovation outside of IT. In the case of embracing automation in IT&SM, this means that IT leaders not only have additional technologies and services to support, but must look outside of the usual suspects for new enterprise wide solutions.14
7. Examples of IT&SM automation successes
Table 1.1 Examples of customer success stories for different IT&SM automation use cases
Automation
scenario type
Customer and their
issue
What the solution
entailed
Results and benefits
Vendor and tool
Automation of
onboarding processes
A manufacturer wanted
to reduce manual
processes to reduce
onboarding time
New user accounts
are automatically
created for new
employees upon
onboarding;
equipment ordering
is automated
Reduced onboarding
time by 40%
EasyVista:
EasyVista
Service manager
Automated ticket
assignment and
dispatching
A financial services
company had an
increasing number
of tickets and
requests to handle
Smart ticketing
based on machine
learning and
analytics (AI) is
used to analyze
classify/categorize,
and assign
incoming tickets
Increased the
number of correctly
assigned tickets
and faster support
response times
Micro Focus:
Micro Focus
Service
management
automation
Service desk
ticket deflection
A composite
customer, as part
of a Forrester
Total Economic
Impact (TEI) Study,
wanted to improve
the user experience
while optimizing
support capabilities
Knowledge base
articles, self-service,
chatbots, and
automation cut the
number of tickets
submitted and/or
that require analyst
involvement
Deflected up to
45% of tickets
from the service
desk; the TEI
study calculated
that this saved
the composite
customer 4.1m
USD
BMC: BMC
Helix IT&SM
Automation of
standard changes
to increase the flow
of IT work
As part of
a European
government
agency's digital
transformation,
the IT department
transformed the
way they work to
deliver value faster
Automation
of standard
changes, where an
automation rule
auto-approved the
change request and
transitioned it to
implementation
Maximizing
standard changes
resulted in the
automation of
70% of change
requests, allowing
staff to focus on
the remaining
30% of change
work
Atlassian:
Jira service
desk
The ITIL guiding principle optimize and automate clearly states that organizations should look for ways to automate their processes, wherever they can. Businesses have been automating since the start of the Industrial Revolution in the 18th century. Yet, the birth of the service desk has increased the capabilities, as well as the need for automation. As the IT infrastructure becomes more complex, the need for automation will only increase. Automation is increasingly implemented through the use of AI, especially via machine-learning-based virtual agents and chatbots, and robotic process automation (RPA). Overall, automation can reduce human errors, save costs, and improve the end-user experience.