Three BIG tips for managing multi-vendor ITSM scenarios

July 20, 2016 |
 5 min read
The IT industry is undergoing a tremendous amount of change and at a rapid rate. It's becoming no longer affordable for an organization's in-house IT department to manage every single IT service that's required for the business to grow.
Outsourcing IT or at the very least some of the IT services is now key to enterprising and growing business strategies hence we find ourselves in a multi-vendor scenario. The issue many companies and in-house IT departments are facing is the governance and management and how to achieve it. The management internally needs to be reflected in the external company and the frameworks, the literature, are only just starting to talk about it.
Who will benefit from multi-vendor?
Many companies would benefit from multi-vendor IT Service Management (ITSM) but especially those that are geographically significant. A bank, for example, has multiple branches and every single one needs to be online 24/7, has numerous ATMs, employee systems and multiple servers all being maintained by an in-house team. It becomes more feasible to outsource some of the service – the internet carrier or the user services team for example.
There's really no escaping outsourcing anymore; every single sector in every single industry, large or small organizations will all eventually have to outsource some or all of their IT. Physical infrastructure is becoming legacy with virtualization taking over - virtual servers, virtual network devices – it won't be long before everything becomes virtual and we'll need to rely on specialized vendors to handle IT as a service to maintain business growth.
The Challenges
Communication is absolutely necessary for outsourcing to be successful. A professional IT service provider will already work with a framework, like ITIL®, and they have their guidance, their processes and their SLAs etc. and this needs to match the outsourced company. Merging the sometimes conflicting IT processes and policies between vendor and the company who contracted them is so important – communication is the only answer.
If the bank find one of its branches is offline, to that organization it's an urgent matter but to the vendor or service provider it may just be one server that's down - a less urgent issue. You need to ensure key performance indicators (KPIs) are agreed from the start and written in the contract - and the KPIs need to be something that will genuinely allow you to manage the vendor and review their performance.
What does best practice tell us?
ITIL® Practitioner will drive us to change our mind-set from talking and managing multiple departments in a single company to managing multiple services in numerous companies. The skillset, toolkit and templates the guidance includes will be extremely helpful for practitioners to use across the board, internally and externally.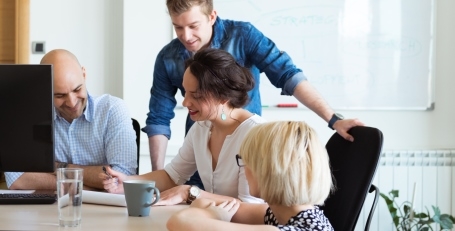 The three BIG tips to help you manage multi-vendor IT services
1: Deciding if it's financially viable for you
Smaller businesses may think that right now outsourcing is not cost effective, a company that may only have one location a few servers or network devices it may actually not be necessary for you to outsource yet. But on the other hand, it's expensive to maintain IT and some of the internal IT professionals might not be as familiar with newer technologies as they come into the ITSM arena, not everybody is certified or experienced enough to successfully drive IT in the direction of business growth. Just because you're small, doesn't mean outsourcing is too expensive, it may still be the more effective option.
2: Finding the right vendor
In the same way you'd seek references for a new employee, seek references for the vendors you're interested in. There are lots of players in the IT outsourcing market and you're not alone, everyone else is undergoing these changes too. It's quick and easy to get references from someone else who has done business with the vendor, these are the best places to get practical advice in terms of how the vendor actually handles IT infrastructure and service.
3: Ensuring YOU'RE the priority
Once you've selected the right vendor you need to define the communication plan with them as clearly as possible. Every single process and policy needs to be crystal clear between each company and keep the momentum going - at least one monthly management review is a total necessity. The initial contract needs to be clear but also based on a continuous improvement lifecycle too; the contract needs to be renewed, reviewed and revised regularly to decide if the vendor is meeting the agreed KPIs.
Outsourcing is becoming a necessity and physical infrastructure is disappearing - it's too expensive, it takes up too much time and too many resources and it's not green. When we talk about virtualization the skillset and expertise is on a higher level, the bar goes up and this will force the market to look towards specialist companies to do it.
Start early - you don't want to be the last one to get in on multi-vendor IT services, you need to make a move early in the game especially with being green at the forefront of business growth; virtualization is the key to green business.
See our ITIL and ITIL Practitioner sections for more information.